Take Two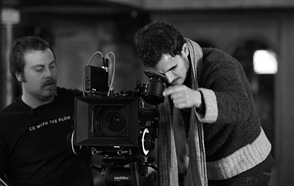 March 26, 2013
Last fall, the ink still drying on his diploma, Alex Thompson '12 was on the verge of something big. A world-famous actress was bringing unusual attention to one of his unproduced scripts. All he needed was $50,000 to shoot it.
Written during the return flight from a semester abroad in Prague, Thompson's Irene & Marie truly took off when Academy Award-winner Olympia Dukakis agreed to play one of the eponymous characters. The Greek America Foundation, eager to support the matriarch of Greek-American actors in a film based on Thompson's Greek-American grandmother, lent their backing to the project, as well as acting vets Rose Gregorio and Burt Young – "Paulie" to Rocky series fans.
Thompson had been working for a Los Angeles casting agency run by Matt Lessall '93 in the months following his graduation. When Irene & Marie began to snowball, he had no professional projects to his name and no network of industry players to lean on to make his short film happen. Instead, he turned to a source of funding that has invigorated ambitious entrepreneurs in recent years: You.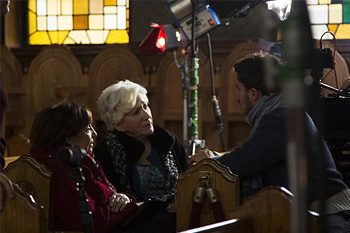 Through Kickstarter.com, a popular crowdfunding website, Thompson set a goal and pitched his film to anyone willing to click a link. And, as you may have guessed, Thompson got his money. He wrapped up filming Irene & Marie in Queens late last year and now spends his days preparing a final cut for an April 25 premiere alongside high school bullying drama The Dirties. But even before his first film is unveiled, Thompson is already pivoting towards his second, and the story behind it should sound familiar. Once again, a respected actor is involved with the project. And once again, Thompson has turned to crowdfunding to pay for it.
On its Kickstarter page, Thompson describes This Party Off Mulholland as "one man telling one story in between 'Rolling!' and 'Cut!'" It's the kind of long-form monologue that Quentin Tarantino sandwiches in the middle of a 2-hour feature film, but here, the monologue is the film.
Thompson had grown restless as he watched Irene & Marie inch toward its funding goal. To keep his anxiety at bay, he began a new script about an actor recounting a wild Hollywood party. "I wanted to write something new and something good," he says, "and when people ask me about great movies, I find myself saying things like, 'Oh, it's about this bank heist, and Al Pacino plays a gay guy and he's holding up this bank and this happens and this happens and then you realize it's for his boyfriend's sex change operation.' I thought, what better way to guarantee my movie is good than to write it like I'm telling it to someone else?"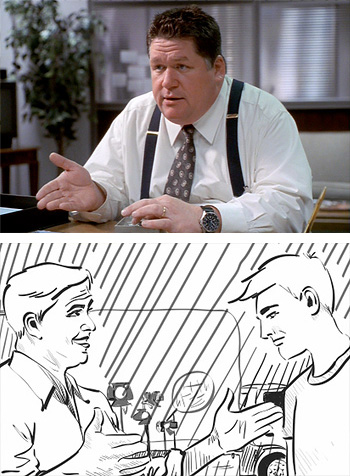 During the wait, he'd also blown through all five seasons of The Wire in a single week. Delaney Williams, who played Sgt. Jay Landsman in the series (right), stood out as somebody he'd like to work with. On a hunch – like he had with Dukakis – Thompson sent Williams the script and an offer. A few weeks later, shortly after Irene & Marie was green-lit, This Party Off Mulholland had its storyteller.
Thompson wasn't the only person pitching scripts to Dukakis and Williams, and they weren't exactly waiting around for his calls, either. So, what's the secret behind getting actors with long careers to join a young filmmaker just beginning his? Apart from a good screenwriting sense, Thompson says his experience at Lessall Casting taught him how to sell parts.
"There are many people with exceptional scripts and exceptional talent, but if they can't write a formal offer letter, they're toast," he says. "There's a very specific way to get an agent on the phone and keep them on the phone – and have them call back. Meryl Streep turned down a role in Irene & Marie in six hours, but she 'respectfully declined. If I had reached out to her without Matt's guidance, I wouldn't have heard back at all."
For the role opposite Williams, Thompson has penciled-in DePauw senior Patrick C. Corley, an English writing major like he was. It isn't the first time Thompson has gone back to his alma mater for help with a film. Coordinator of Community Service & Outreach Gigi Fenlon, who directed him in a play as a student, joined the Irene & Marie set as a mentor – he called her his "mojo" – and Duncan L. Wolfe '11 came on as an editor to help piece together the footage.
Then there are the classmates, former professors and alumni who helped finance his first film. With less than a month remaining on his Kickstarter goal of $20,000 for This Party Off Mulholland, Thompson is hoping for their support once again. Without the backing of the Greek America Foundation or a name quite as big as Olympia Dukakis' attached to the project, the outcome is even less certain this time.
Speaking candidly, Thompson admits he's terrified. He and his producer Will Trowbridge, who he met during his semester in Prague, are leaving no stone unturned in search of contributions of $10, $50 . . . $2,000. For all the anxiety the Kickstarter model induces – you only get the money if you reach your goal, period – it does give them control of their financiers, and therefore their film. But if somebody has a grand vision and the money to match, well, that would be okay, too.
"What we dream about is a contributor who wants in on the process, who loves movies and wants to be a part of them in the same way my dad wants to write a novel and sail boats for the rest of his life when he retires," Thompson says. "We want to be that 'out' for someone."
Read more about Irene & Marie and This Party Off Mulholland at Kickstarter.com.
Back