As World Remembers Margaret Thatcher, Her 1992 DePauw Visit is Recalled
April 8, 2013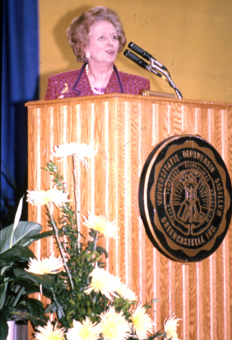 Margaret Thatcher, the former prime minister of Great Britain who visited DePauw 21 years and one day ago, died this morning at age 87. "Tonight we look back on her Indiana appearance and the complex political legacy that Britain's 'Iron Lady' leaves behind," noted Indianapolis ABC affiliate WRTV in its 7 p.m. newscast tonight.
was on campus and will air a piece on Mrs. Thatcher's April 7, 1992 Ubben Lecture at DePauw during its evening newscast.
WRTV reporter Chris Proffitt came to campus earlier in the day to compile a report which includes clips from Mrs. Thatcher's April 7, 1992 Ubben Lecture at DePauw as well as interviews with Sunil K. Sahu, professor and chair of political science, who attended the speech in Neal Fieldhouse; Brett O'Bannon, associate professor of political science and director of the conflict studies program; and Katrina Zacha, a DePauw student. The segment is embedded below.
NPR affiliate WFYI-FM aired a report by Rick Dawson which included lengthier segments from Margaret Thatcher's speech as well as comments from Ken Owen '82, executive director of media relations at DePauw, who has coordinated the Ubben Lecture Series since 2002.
Video from Thatcher's DePauw speech is posted at the website of Bloomington, Indiana's WTIU/WFIU. And Indianapolis radio news station WIBC plans to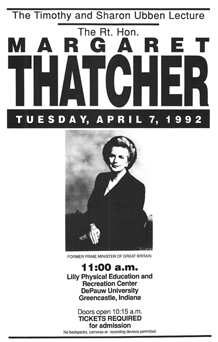 air a segment on Margaret Thatcher's day at DePauw tomorrow morning.
In her Ubben Lecture at DePauw, Thatcher declared, "We defeated communism without having to sacrifice great life -- it crumbled. After the victory against Germany and Japan we spent a lot of money, a lot of effort, on teaching them democracy on helping them to build up their industries ... After communism crumbled it hadn't cost us a life, it hadn't cost us any resources, and I feel very strongly indeed that we should help them the more because we didn't have to make sacrifices ourselves."
She told the crowd that filled Neal Fieldhouse, "It was for me a great honor to be asked to come and address people of this very famous University, which has a reputation for excellence, because excellence is the only standard worth striving for. And its achievement applauds not only those who reach it, but it pulls up standards everywhere else."
A summary of the event is available here, and segments of the speech are embedded below.
The Timothy and Sharon Ubben Lecture Series was established in 1986 through the generous support of 1958 DePauw graduates Timothy H. and Sharon Williams Ubben to "bring the world to Greencastle."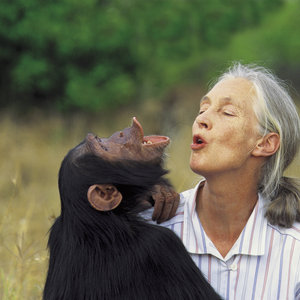 Over the past 27 years, Ubben Lecturers have included: Bill Clinton, Tony Blair, Mikhail Gorbachev, Shimon Peres, Benazir Bhutto, Elie Wiesel, General Colin Powell, John Major, Barbara Bush, Carl Bernstein, Oscar Arias, Barbara Bush, Peyton Manning and Spike Lee.
Next Wednesday, April 17, world-renowned conservationist Jane Goodall will come to DePauw to discuss "Sowing the Seeds of Hope."
To view a complete roster of Ubben Lecturers -- which includes links to video clips and news stories -- click here. Video montages of many guests are available on YouTube.
Source: WRTV & WFYI (Indianapolis)
Back