"Special Coach" Kris Huffman Inducted Into Indiana Basketball Hall of Fame
April 29, 2013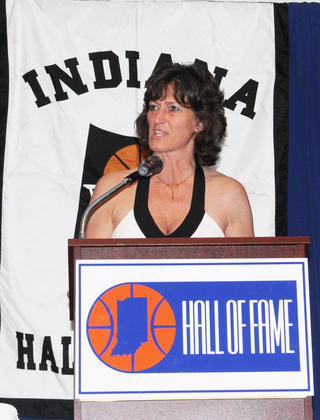 "A lot of things make coach Huffman special," says DePauw University senior Kate Walker of her basketball coach, Kris Huffman, who was inducted into the Indiana Basketball Hall of Fame on Saturday. Walker, the point guard on this year's national championship team, tells the Banner-Graphic, "Usually a player and a coach can butt heads, but I don't think we really ever have because she's so good at what she does and she presents it well. She genuinely cares about us, which I think is the biggest thing for me. If someone genuinely cares for me, I want to do my best for them." (photo: Grant Wieman/Banner-Graphic)
Huffman received the the St. Vincent Health Silver Medal Award, which is presented each year to a living person based upon outstanding contributions to Indiana high school basketball in a capacity other than an Indiana high school basketball player or coach. Recipients of the Silver Medal are considered to be Hall of Fame Inductees. She previously was inducted into the Iowa Basketball Hall of Fame.
"Being from Iowa and being inducted to the Indiana Basketball Hall of Fame really is special," Huffman says. "To know how much they value their sports and to be up there with those tremendous athletes; it's kind of mind-blowing. It's really special when you're inducted as a coach and you're recognized by your colleagues for what you've been able to do. This one is very special for me, professionally." (at left: Hall of Fame's official sketch of the coach)
The Tigers were a perfect 34-0 this season and Huffman won three national "Coach of the Year" awards. The 1985 Iowa Miss Basketball, she led her Fort Dodge high school team to a 1985 state championship and 1984 state runner-up finish. A graduate of the University of Northern Iowa, she graduated as the school's 2nd all-time leading scorer. She came to DePauw in 1993.
"The Tigers had won 37.7 percent of their games before Huffman arrived," notes Grant Wieman. "They've won 82 percent since (466-102). By the end of her seventh season the Tigers had won more games than they did in their first 16. DePauw has won at least 19 games -- every year --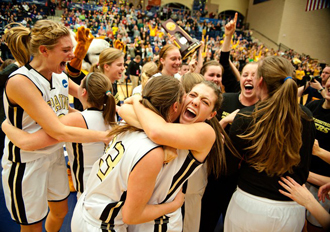 since 1995-96, Huffman's third season at the school.
The Tigers have won conference championships 14 times in the past 20 seasons and they've made the NCAA tournament each of the past 10 seasons. DPU reached the Final Four for the first time in 2002 and Huffman was named coach of the year. They won a national championship in 2007, finishing 31-3."
Huffman tells the newspaper, "It's always the next season and it's the next group of student-athletes. How can you put that next team together? That's the fun part. How close can you get to reaching the potential of that team, so that's kind of what drives me."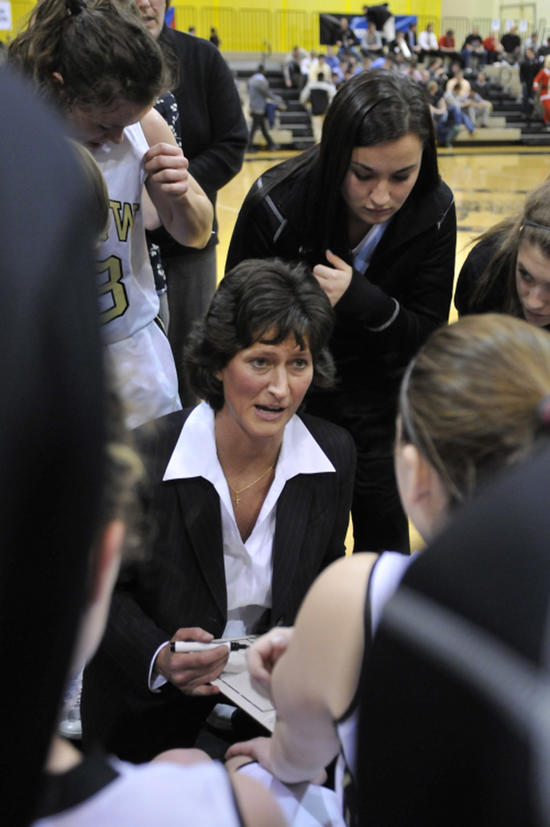 Dana Ferguson, who played for Huffman for four years before graduating, now serves as a volunteer assistant coach for the Tigers. "She's obviously a great coach, but she's a more phenomenal person," she says. "She invited me back (to coach) and I guess the rest is history. DePauw is a really hard place to leave because it's such a special place."
Walker sums up Saturday's event by saying, "I always knew she was a special coach. Now everyone else recognized it."
Access the full story at the Banner-Graphic's website.
DePauw won its second national title on March 16 with a 69-51 victory over Wisconsin-Whitewater in the NCAA Division III national championship game, becoming the only team in NCAA Division III women's basketball history to win 34 games in a season.
On April 5, team members signed autographs and posed for photos at a public celebration at Eli's Books/Starbucks on Greencastle's courthouse square.
Back