DePauw Teammates, Friends and College Coach to Remember Dave Galle '87 & Raise Funds for Education
June 21, 2013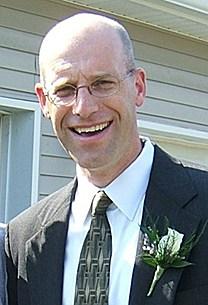 "Several of (Dave) Galle's teammates and his coach from his days playing basketball at DePauw University were talking after his funeral and thought about a way to honor the longtime Columbus resident," reports the Columbus Republic. "They came up with the Dave Galle Memorial Golf Classic, which will be Monday at Otter Creek."
David M. Galle, a 1987 graduate of DePauw, died last August of an autoimmune blood disorder. Jim Sandgren '88, a DePauw teammate of Dave Galle, says of the idea for the golf tournament, "It was a group of guys after the funeral that we hadn't seen in years, including coach (Mike) Steele. We started talking about how we could memorialize David and his legacy. We started talking that day, and from there it kind of evolved, and we're excited about the tournament."
Ted Schultz writes, "On the basketball court, Galle was a Division III All-American and an Academic All-American at DePauw. He led the Tigers to 61 consecutive home wins, and the school lost only one home game during his four years there." After graduating cum laude from DePauw with a B.A. in economics,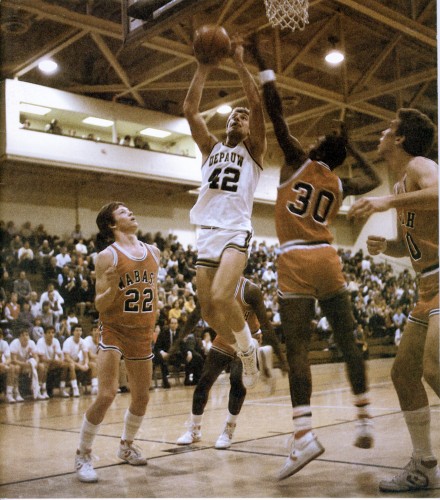 he earned a M.B.A from Northwestern's J. L. Kellogg Graduate School of Management in 1991. Galle was inducted into the DePauw Athletic Hall of Fame in 2006.
"He was just really the best," says his Tiger coach, Mike Steele. "He was a great player. He was a great teammate, one of the easiest guys I've ever had an opportunity to coach." (at left: Galle, #42, goes up for a layup versus Wabash College)
The Republic reports, "All money raised from the tournament will benefit scholarships for both private and public options for pre-K education in Bartholomew County. The Heritage Fund, the Community Foundation of Bartholomew County, has been chosen to manage the scholarship. Galle, a local education advocate, last worked for the Community Education Coalition."
"His passion was early childhood development," notes Sandgren. "It's all about supporting Dave's dream for both public and private education, regardless of their ability to pay."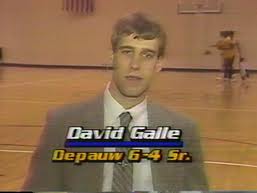 Steele adds, "What we really need in sports are more David Galles. He always gave 100 percent in practice, and he was a great player for us. If you were going to have the epitome of what you wanted in a student-athlete, it was David Galle. I don't know of anyone that's ever met David Galle that's ever had a bad thing to say about him, and that's pretty neat."
Access the full article at the newspaper's website.
Dave Galle was interviewed by an Indianapolis television station in 1987. The video is embedded below.
Back