Residents of Homeless Shelter Thank Jack Thomas '67 for Saving Mission from Closure
March 30, 2013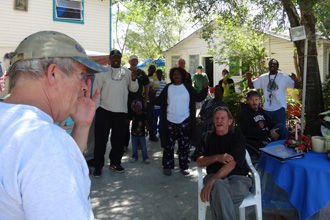 "Some seven months after he tapped his own bank account to save the Bread of Life mission from foreclosure, local resident Jack Thomas was thanked for his sacrifices as part of the mission's Good Friday fish fry," begins a story published in the Sun of Port Charlotte, Florida. "About two dozen mission clients greeted Thomas with hugs and handshakes when he arrived for the luncheon at the mission," which is in Punta Gorda, writes Greg Martin. "The residents also sang Happy Birthday to Thomas, whose birthday fell on Good Friday this year."
The article continues, "Most of the clients weren't around the mission last August, when Thomas spent $37,000 to settle a foreclosure with the mission's former owner. But several said they understood Thomas had 'saved' the mission, and the mission was now saving them."
John A. "Jack" Thomas, a 1967 graduate of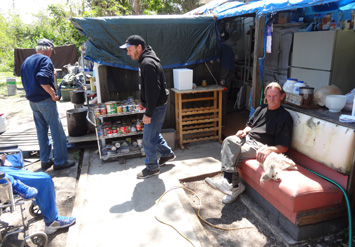 DePauw University, first learned of the mission on Easter Sunday 2002, when he drove past the facility as a modest service was taking place. "(Resident) Ms. Marie was singing and (mission founder) Judy (Jones) was playing the piano and it was beautiful," he recalls. "I never really had been to a service like that."
He adds, "The mission opened my eyes in several respects," he explained. "I've learned there's a lot of God's work that remains to be done on Earth."
Visit the Sun online (a subscription is needed to access the full story).
Back