Outside the Box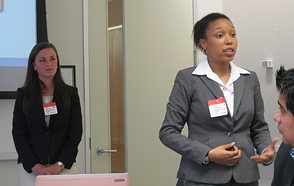 July 2, 2013
Procter & Gamble could fill most of a corner drug store with its products. Whether they're under your arms (Old Spice, Secret), in your mouth (Crest, Scope) or hair (Head & Shoulders, Pantene), on your face (CoverGirl, Gillette), in your alarm clock (Duracell), under the kitchen sink (Bounty, Dawn) or filling your dog's dish (Iams, Eukanuba), P&G brands probably cover you and your home. So what did an already ubiquitous consumer goods giant have to gain from inviting a group of DePauw students to its Cincinnati headquarters?
Last January, F.D. Wilder, P&G's vice president of global market and strategy planning and a 1982 DePauw graduate, reached out to his alma mater for help. Hoping to tap into youthful insight from outside the company, he asked senior seminar students in the Management Fellows Program for suggestions about how to improve the online presence of three P&G brands: CoverGirl, Olay and DDF, a line of dermatologist-recommended skincare products P&G acquired in 2007.
Gary D. Lemon, professor of economics and management and director of the Management Fellows Program, worked with Wilder on how he could engage students in a project that would benefit not only them, but also P&G. "The project was a real coup for us," Lemon says. "There are a lot of other schools P&G could have reached out to do this, or we could have done some theoretical thing in class, but they really wanted to hear what our students had to offer."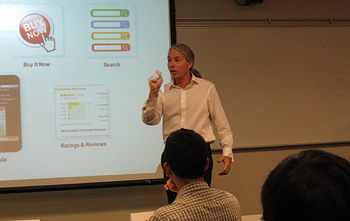 Knowing that an understanding of P&G's corporate culture, its brand strategies and target markets would be crucial to the students' success, Wilder (left, at a Management Fellows meeting) provided the three project teams with mentors from the company – Xavier L. Pokorzynski '00, Elizabeth Q. Ratchford '11 and David C. Warner '00 – all DePauw alumni.
"The mentors were the only way we had to discover the business side of P&G's operations and to see the work currently being done on the brands," says Paige W. Gooch '14, a member of Team CoverGirl. "We needed that insider viewpoint to understand how we should present our findings."
During the spring semester, the students audited P&G's brand websites and social media accounts, and ordered their products from Amazon, taking note of everything from the sample images to how the items were packaged. The three teams also conducted surveys online, at a campus sorority and, as Team DDF did, outside a cosmetics store at an Indianapolis shopping mall. Many of their findings were similar: Certain kinds of social media messages gained traction, earning Facebook shares and Twitter retweets, while others fell flat. And only a small portion of the people they surveyed had ever purchased beauty and skincare products via the Internet. By engaging with consumers digitally, offering expert guides and exclusive product promotions, the students believed P&G would not only grow the online presence of the three brands, but also make headway in the surprisingly unexploited realm of online sales.
As their May trip to Cincinnati approached, the teams polished their presentations, tailoring more specific recommendations to each brand. Team CoverGirl saw an opportunity to better align the makeup line's social media messaging with its easy, breezy marketing pedigree, while Team Olay pushed for a more streamlined, VIP online shopping experience. Team DDF – half of whom were computer science majors – built their presentation into a custom-designed website, using interactive web technologies to leverage the brand's dermatologist backing.
When P&G's Wilder and three mentors made a final visit to DePauw in mid-April to meet with the project teams, most of the students' work had already been completed. The conversations instead turned to what to expect during their visit to P&G. Who else would be there? Would they be open to critique?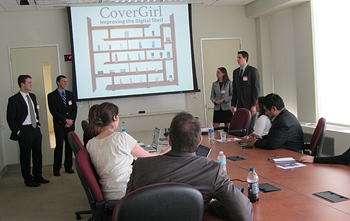 The anxiety was understandable. Presenting at an international corporate headquarters would keep an industry veteran up at night, let alone a group of mostly college juniors. But three weeks later, in meeting rooms filled with some of P&G's top-level managers, their nerves were overshadowed by three months of careful research and planning.
"At the end of our presentation, CoverGirl's brand manager told us we hit the nail on the head with our research and to wait a few months to see what CoverGirl is rolling out in its new marketing campaign," Gooch says. "It was so rewarding to hear those comments, and it's exciting to see how CoverGirl changes because of this project."
Gooch's sentiment was echoed by the other students. "They seemed blown away by our recommendations and intent on making the necessary changes to implement them," Team Olay's Bartholomew "Bart" W. Freibert '14 agreed. "I don't think any of us expected our work to be so well received."
Even the Old Spice brand, though not represented by a project team, borrowed from the Team DDF presentation, creating an interactive banner ad to promote a new shaving gel.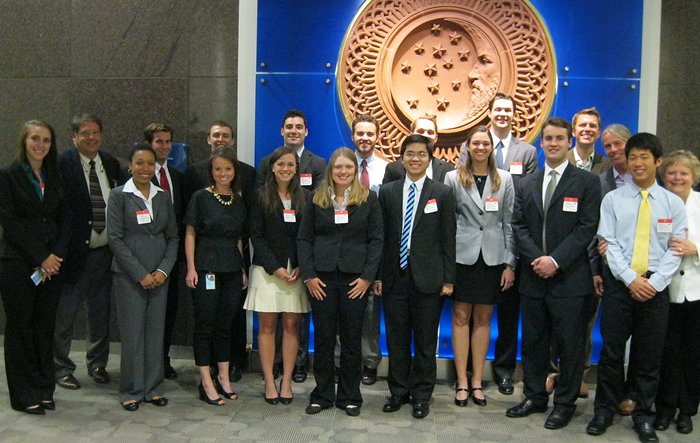 A week later, Wilder wrote to Lemon to reflect on the experience. "As [the students] were presenting, I felt like I was with a team of P&G colleagues," he said, adding that he'd just returned from a trip to Palo Alto, Calif., where representatives from Apple, Google, Facebook and Yahoo had told him many of the same things the DePauw students did.
"It was a perfect chance to show how a liberal arts education can be used to think outside the box, and a real world example of how creative people who can communicate their ideas effectively can be extremely successful in the business world," Lemon says of the project. "This is what we try to sell about DePauw when we talk to prospective students. Very few undergraduates get the opportunity to do what these students accomplished."
Back