James K. Baker, Former Chair of Board of Trustees, Dies at Age 81
July 28, 2013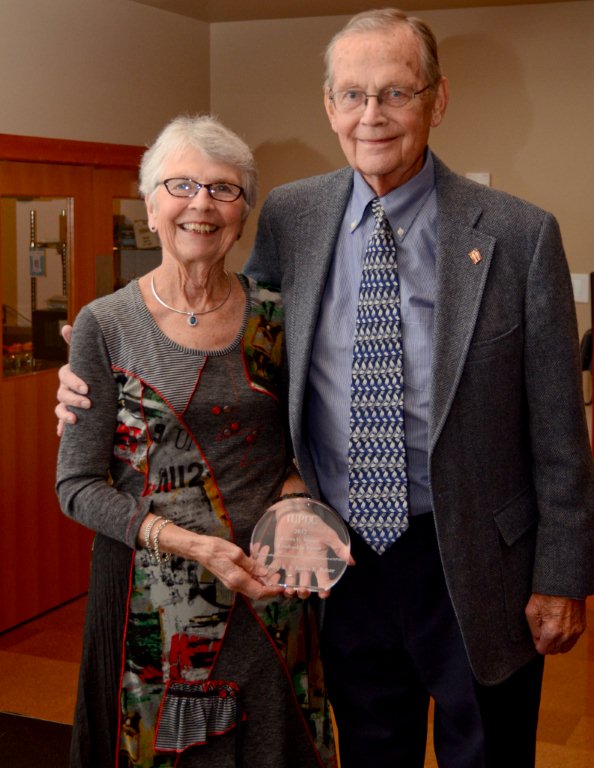 James K. Baker, a 1953 graduate of DePauw and a former member and chair of the University's Board of Trustees, died July 24 in Columbus, Indiana. The retired president and chairman of Arvin Industries and a longtime education advocate, Baker was 81 years old.
Born December 21, 1931 in Wabash, Indiana, Jim Baker graduated cum laude from DePauw University, where he majored in mathematics and physics. After serving 2 years in the U.S. Army, Baker received his M.B.A. with distinction from the Harvard Business School in 1958.
He spent his entire business career at Arvin Industries, named general manager of the Arvinyl division in 1964, president and CEO in 1981, and chairman in 1986. Under Baker's leadership, Arvin was transformed from a domestic conglomeration of separate businesses into a global leader in the automotive parts industry. Baker also worked with the Indiana Senate, Gov. Robert D. Orr and Sen. Robert D. Garton on the Indiana anti-takeover bill of 1985 which was used by companies nationwide to thwart hostile corporate takeovers. (at left: Jim Baker and his wife, Bev '59, last year)
In addition to his service to DePauw, Baker served on a number of other boards, among them: Indiana National Bank, PSI Resources, NBD First Chicago, The GEON Company, Amcast Industrial, Cinergy Corporation, Tokheim Corporation, Veridian and Space Industries International. He was elected chairman of the U. S. Chamber of Commerce in 1990 which he always said was "life-changing and brought many unique experiences," such as playing horseshoes with George H.W. Bush at Camp David and traveling all over the world.
Jim Baker was also deeply committed to improving the U.S. educational system. He co-chaired the New American School Development Corporation, which aimed to increase collaboration between university presidents and corporate executives. He was also active with the Charles Tindley Accelerated School in Indianapolis, receiving its Trailblazer Award last year as well as the James G. Simms Leadership Award from Indiana University - Purdue University at Columbus.
In April, Indiana Governor Mike Pence presented Jim Baker with the Sagamore of the Wabash award. It marked the fourth time Baker was presented with the state's top honor.
James Baker delivered the golden anniversary address at his 50th class reunion at DePauw in June 2013. He stated, "DePauw was good to us. We had a lot of fun here, we learned a lot and we left ready to face a world that would change more than we ever dreamed. And we left with lots of lifetime friendships. Today, remember [that] no matter how many knees have been replaced, or how many hairs have fallen, or how many pounds have been gained, today it's okay to believe we're 20 years old. For when we're together, that is who we are. Have fun, reconnect, relive and remember. Thanks DePauw, for bringing us together. We are a great class."
Services will be private.
More information is available in this online obituary.
Back