Orthopaedic Surgeon James Gesler '72 Marks a Milestone
October 14, 2013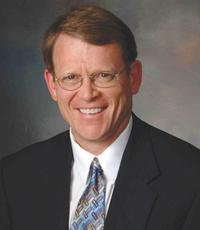 James W. Gesler, orthopaedic surgeon and 1972 graduate of DePauw University, is marking his 30-year anniversary at Orthopaedic & Sports Medicine Center in Wooster, Ohio, notes an item in the Wooster Daily Record.
The newspaper notes that Gesler, a Rector Scholar who majored in chemistry and mathematics as an undergraduate, "received his bachelor of arts degree from DePauw University and his medical degree from Case Western Reserve University School of Medicine. He completed his internship in general surgery in 1977 at Emory University in Atlanta and his orthopaedic residency in 1981 at CWRU and affiliated hospitals in Cleveland."

The text adds, "He was lieutenant commander in the U.S. Public Health Service in Anchorage, Alaska, where he served as staff orthopaedic surgeon for two years. In 1983, he moved back to Ohio to join Dr. Owen Logee in practice."
Visit the Daily Record online.
Back