DePauw & Wabash Students Raise $3K for ALS Association
November 18, 2013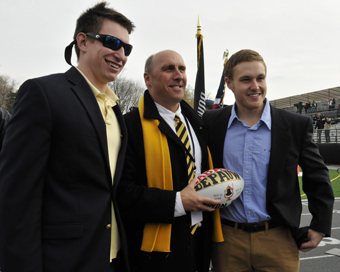 A joint fundraising effort between students at DePauw University and Wabash College to raise money to fight Lou Gehrig's Disease raised approximately $3,000 for the ALS Association.
Members of the Phi Delta Theta fraternity chapters at the two colleges relayed a commemorative football from Crawfordsville to Greencastle in time for Saturday's 120th Monon Bell Classic. Wabash fraternity members escorted the ball halfway between the two cities. Ryan Heeb '14 led a team of DePauw Phi Delts who carried it the rest of the way on foot and bike.
The ball was presented to officials prior to kickoff the rivalry game. After the contest, the ball was presented to Jim Cumming a 1961 Wabash Phi Delt who was the winner of a raffle held earlier in the week at an alumni dinner.
ALS is a progressive neurodegenerative disease that attacks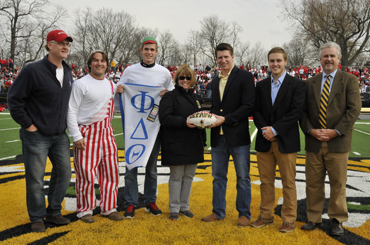 nerve cells and pathways in the brain and spinal cord. As many as 30,000 Americans may currently be affected by ALS. Gehrig, a New York Yankees great, was a member of Phi Delta Theta, and the ALS Association is the fraternity's international charity.
"We are committed to making this an annual event," says Chris Johnston '83, chapter advisor for the DePauw Phi Delt house. "Next year we are planning to involve more alumni in the relay and have a target of $10,000. We are grateful to DePauw athletic director Stevie Baker-Watson for her support of this very positive event."
Saturday's game, won by Wabash 38-21, is covered here.
Back