A Record Six DePauw Seniors are Offered Orr Entrepreneurial Fellowships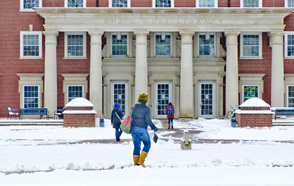 December 17, 2013
Six DePauw University seniors are among the 2014 class of the Governor Robert D. Orr Entrepreneurial Fellowship program. They are among about 40 Indiana college students offered Orr Fellowships following their graduation. The DePauw total of six is the highest ever offered to students of the University; the previous record high was four.
Named after Indiana's 45th governor, the Orr Fellowships offer two-year placements in an entry-level job and leadership training including monthly meetings with some of Indiana's top entrepreneurs and business leaders. In addition, Orr Fellows attend entrepreneurial events and symposiums throughout the state and engage themselves in social and community service-related activities. Throughout these activities and experiences, the Governor Bob Orr Fellowship hopes to

retain Indiana's top graduate talent, and aid in the development of Indiana's economy.
The DePauw members of the Orr Fellowship class of 2014, and their host companies, are:
Caitlin Hickey, Milhaus Development
Adam Johnson, WebLink International
Kristin Jonason, RICS Software
Erika Krukowski, KA+A
Ben Roess, Angie's List
Megan Schuman, Digital Relevance
Orr Fellows gain executive-level mentorship at their Host Companies, build a professional network through Business Leader Meetings (presentations and opportunities to build relationships with leaders in the Indiana business community), and join a peer network of other talented recent college graduates over their two-year time in the Fellowship.
"Each Orr Fellow's experience at his/her host company will be very different," notes Ellen Funke, a 2013 DePauw graduate who is currently an Orr Fellow at TechPoint, Indiana's technology growth initiative. "The companies are big and small, involved in brand design to search engine optimization to real estate development. Every host company is fast-paced and committed to providing an experience full of learning and influence."
Learn more at the Orr Fellowship website.
Back