Geosciences Duo Snag Fellowships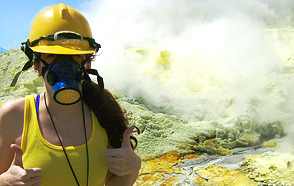 April 9, 2014
Stick around DePauw's geosciences department long enough, and you're bound to hear a professor quip that the best geoscientist is the one who's seen the most rocks. For seniors Mackenzie M. Cremeans and Katherine R. Shover, the saying has become familiar by now.
"It's definitely something we've heard more than once," Cremeans says.
They've taken it to heart, too. Between the two of them, they've studied the geological phenomena of California, South Dakota, Wisconsin, Scotland, New Zealand and, of course, Indiana. If seeing rocks in interesting places makes for a good geoscientist, you might guess that Cremeans and Shover have bright futures ahead of them. And you'd be right. This fall they continue their studies supported by big-dollar graduate fellowships.
Shover, a geology major, will take her interest in planetary geology to University of Texas' Jackson School of Geosciences. Aided by a $36,000 fellowship, she joins a research project investigating geological features called mass-transport deposits, the paths of which – their footprints, so to speak – reveal historical information about the underlying terrain. For example, mass-transport deposits on the surface of Mars might tell us whether the red planet was once covered by ancient oceans.
"It's kind of a controversial theory," Shover says, "so I'm excited to work on it."
Cremeans, an environmental geoscience major, accepted a $30,000 Madison and Lila Self Graduate Fellowship at University of Kansas. There, she will study a process called bioremediation and how it might be used to treat polluted water sources. Using microorganisms that naturally counteract contaminants such as heavy metals, an affected water table could be treated without the risks or difficulty of a full excavation. Her research hopes to uncover what kinds of microorganisms are most effective against particular contaminants, and under what conditions.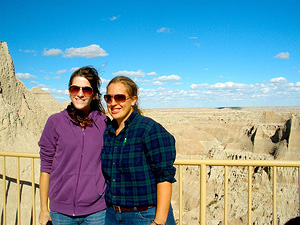 Cremeans (pictured, on right) and Shover (left) add to what Professor of Geosciences Jim Mills says is a strong tradition of placing the department's graduates in academia and industry. With an average of 12 graduates per year, about a third continue their education, while the rest go on to work in fields such as oil, gas and, in recent years, environmental consulting.
To keep their current students competitive, the geosciences faculty stays in touch with these alumni, who provide feedback about what graduate programs and employers are looking for.
"We hear back from alumni that our program is tough and that we expect a lot from our students," Mills says, "but they also tell us that they are very well prepared and in many ways are ahead of their peers."
Mills says one advantage DePauw's geosciences graduates benefit from is an emphasis on writing in the curriculum. Writing ability is often overlooked in science education – and a skill Mills believes put Cremeans and Shover ahead of other fellowship applicants.
"Not only do our students have to know the science, but they also have to be able to communicate it to other people," Mills says. "I think that sets our students apart from a lot of graduates from many other schools."
Both Cremeans and Shover have had heavy exposure to writing both in and outside of their degree work. An Honor Scholar, Shover worked with Mills, Professor of Modern Languages Arthur B. Evans and Professor of English Istvan Csicsery-Ronay on her senior thesis about the role of alien geology in science fiction and how it shapes – and is shaped by – human activity.
"I've been into science fiction for a while," Shover says. "My dad has a giant bookshelf in the basement filled with it. When I started in the Honor Scholar Program as a freshman, I thought it would be really cool to do something about science fiction."
Cremeans, a double major in English and a volunteer in DePauw's Writing Center, says the ability to communicate is especially important for people in disciplines that inform public policy.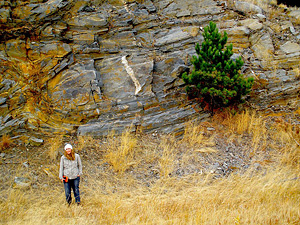 "In environmental geoscience, we do a lot of work that's directed at important decisions being made at the governmental level," Cremeans (right, in the Black Hills of South Dakota) says. "If scientists aren't competent in writing and speaking, we – everybody – is in for a world of hurt. The emphasis is on being able to explain what you know to other people, whether or not they are experts. It's critical."
Another advantage Cremeans and Shover share? That goes back to the "most rocks" theory.
"We work hard to get our students into the field – locally, regionally, nationally and internationally," Mills says. "You really need to have seen the material in its natural environment to understand what you're talking about."
Cremeans remembers a trip she took to Baraboo, Wis., as a freshman with Professor of Geosciences Scott Wilkerson, during which the importance of seeing geology in person first hit home.
"We had been taking measurements all week long, and only at the very end did we realize that the whole time we'd been standing on a giant, double-plunging fold that encompassed the entire city," Cremeans recalls. "We were told about it before we started, but we had to go see it and measure it for it to really click."
Back