Come Full Circle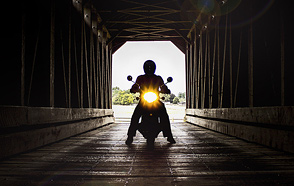 May 14, 2014
Reparation is a film-to-be about a man who can't remember his past. It's also a story about DePauw: about relationships that last long after graduation and a community you never leave.
The first attempt at turning Professor of Communication and Theatre Steve Timm's play, The Activist, into a film lasted more than a decade and ended tucked away on a shelf. Kyle Ham '94 had seen the play as a student. It stuck with him, and nearly as soon as he left DePauw and joined the entertainment industry, he reached out to Timm, his former adviser, to ask for rights to the adaptation. Timm agreed, but only if he could help.
Their collaboration, The Broken, started getting bites in Hollywood a few years later. But as more agents, directors and producers gave their two cents, the rewrites added up, changing the story into something slightly different each time. The rewrites continued until 2006, when producer Bonnie Bruckheimer (Beaches, Divine Secrets of the Ya-Ya Sisterhood), who had helped them develop the project, convinced them it was time to move on.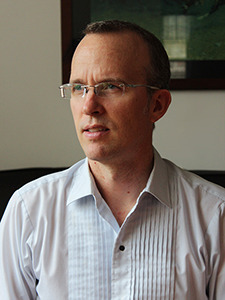 "We were exhausted," Ham, left, recalls. "Bonnie told us that we had to stop rewriting until somebody actually paid us. It wasn't her giving up on us. She was just acknowledging the reality of what we were going through."
Neither Ham nor Timm looked at it again until last summer. By then, Ham had many film and television credits to his name, but he'd never directed a feature. And with nearly two decades in the industry, he was getting a little anxious about it. Looking for a project to make his debut, Ham dug out the old script he and Timm had left behind.
"For both of us, it was a heartbreak kind of thing," Ham says. "We had been so close to getting it packaged and sold in Hollywood for somebody else to make the movie, but nothing ever came of any of that work. Meanwhile, we felt we'd destroyed the story we wanted to make."
Remembering its potential, Ham once again contacted Timm. Once again, he agreed to help. Determined to make the film they wanted, they stripped the screenplay of the extra weight it had accumulated from years of overdevelopment. There were discoveries, too – the kind you make when you come back to something you love after seven years away from it. With a fresh rewrite and a new name, Reparation, Ham and Timm floated their resurrected project in Hollywood to gauge interest. The response was more positive than ever. Talent agents at major agencies were even calling to know why their clients hadn't been asked to read for it.

Encouraged, but in unfamiliar waters as a director and working on a tight budget – the film's Kickstarter fundraising deadline is fast approaching, leaving some of its funding uncertain – Ham knew that to make the film a reality, it needed to come full circle, back to Greencastle.
"To pull this off, I knew we would need a community of people who knew us and who believed in our work," Ham says.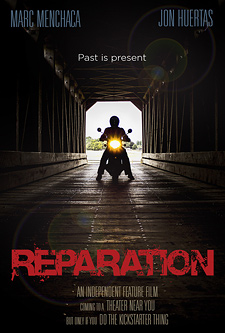 With filming scheduled for this summer, Ham has been scouting locations around town and building a cast and crew. In addition to familiar faces such as Jon Huertas (Castle, Generation Kill) and Marc Menchaca (Generation Kill, Homeland), the production includes several DePauw students, alumni, staff and faculty members. Amy M. Gaither-Hayes and Gina "Gigi" J. Fenlon, part-time assistant professors of communication and theatre, both joined the cast. Vice President of the Casting Society of America Matthew Lessall '93, who played one of the leads in the stage version as a senior, came to the project as casting director and producer. The production designer, G. Duane Skoog, is technical director at DePauw's Green Center for the Performing Arts. Art Director Barbara Fields Timm, Steve Timm's wife, is a part-time assistant professor of art. And five students and recent graduates – Alexandria L. Gasaway '14, Caleb E. Haydock '15, Henry F. Johnston '14, Meave C. McDonough '15 and Mary Alyce Von Stein '16 – are getting valuable technical experience as interns on the production.
No doubt their involvement is cost effective, but that's only part of it, Ham says. By engaging the DePauw community, he thinks there is an opportunity to advance it.
"I think we can use projects like these to boost DePauw's standing, not as a film school," he says, "but as a liberal arts community from which great storytellers emerge."
Want to be a part of Reparation as an extra? Contact Kyle Ham at reparationmovvie@icloud.com.
Back