Adam Bodony '08 is Artistic Director of Bloomington Symphony Orchestra
June 24, 2014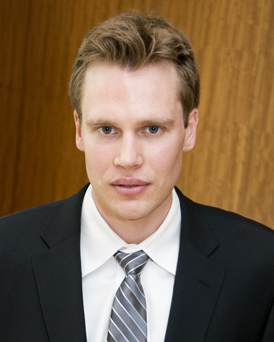 The newly-appointed artistic director of the the Bloomington (Indiana) Symphony Orchestra is "a gifted young conductor named Adam Bodony," writes Peter Jacobi in the Bedford Times-Mail. A 2008 graduate of the DePauw University School of Music, Bodony will take over next month as the orchestra prepares for its 45th season. He was selected from a pool of more than 60 applicants.
According to Donna Lafferty, executive director of the BSO and trombonist, "Adam is already heavily involved. He's made procedural suggestions on how to improve our tuning process, how and when the orchestra takes the stage, and such. He's also planning ahead for things like master classes and sectionals to get us ready for the challenges of our upcoming season. Given everything his references said about him and the interactions we've already had, I'm expecting Adam to invest himself fully in every aspect of the orchestra. He's just that kind of guy."
Jacobi adds, "Bodony appears to be a fellow who seeks and welcomes responsibility. In addition to taking on his Bloomington duties, he serves as executive director and artistic director designate of the New World Youth Orchestra, headquartered in Indianapolis, and assistant conductor of the Missouri Symphony Orchestra, another assemblage of young musicians that gather from all over the world to plays a summer concert series in Columbia. His training in conducting and trombone performance has been accomplished at DePauw, IU's Jacobs School, and the St. Petersburg Conservatory. As trombonist, he periodically plays with the Indianapolis Symphony Orchestra."
"I was upfront in my interviews that I believed the artistic core of the orchestra to be fit and well," says Bodony, who majored in music performance and religious studies at DePauw. "They are obviously doing something right to not
only be around for a 45th year but also to be on the continual artistic rise. The wheel doesn't need reinvented here. What I love about this group is that they play with such energy, enthusiasm, and optimism ... I plan to bring my own personal style of music making to the group, as is expected. While sound is of the utmost importance, for me, the most power an orchestra can wield is in playing together. By together, I just don't mean in the same tempo. I mean wanting to create a lyrical, organic connection between musical events unfolding in real time that are scattered throughout the orchestra, an overarching togetherness."
To learn more, visit the Times-Mail online (a subscription may be required to view the story).
Back