Heidi Farid Sprowls '97 Crowned Ms. Ohio
June 26, 2014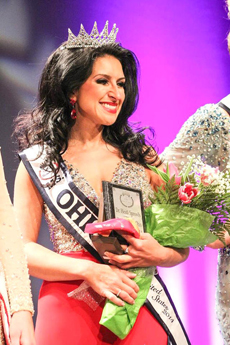 Heidi Farid Sprowls, a dentist and 1997 graduate of DePauw University, has been crowned Ms. Ohio and moves on to the Ms. United States pageant in Washington, D.C.
"This is the only pageant I have ever participated in," says Dr. Sprowls, who practices dentistry in Centerville, Ohio. "A friend encouraged me to do it and it was an exciting challenge."
An article in her hometown newspaper, Indiana's Brazil Times, notes that Sprowls has volunteered with Mothers Against Drunk Driving and the Good Neighbor House, which provides dental and medical care to individuals who cannot afford treatment. "I also really enjoy visiting schools and educating children about dental hygiene and prevention of dental decay," she says.
Access the complete story here.
A psychology major at DePauw, Heidi Farid Sprowls received her Doctor of Dental Surgery Degree from the Indiana University School of Dentistry in Indianapolis and completed a General Practice Residency through Indiana University School of Medicine in 2002.
Back