Role of Larry Nichols '58 in Inventing Famous Toy is Recalled
September 1, 2014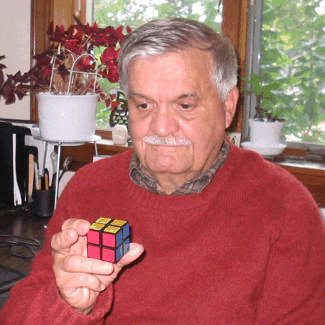 "Rubik was not the first to develop his unique and complex cube with the many colors on each side," notes a column in Ohio's Fairborn Daily Herald. "A man originally from Xenia, Larry Nichols developed a similar game before Rubik's Cube appeared on the market."
Joan Baxter points out that Nichols received a degree in chemistry in 1958 from DePauw University, where he was a Rector Scholar, and went on to earn a doctorate at Harvard. "As a Harvard student, he invented and produced about ten different games and puzzles, this was quite a pastime for him. He went on to become the chief scientist for Moleculon Research Corporation of Cambridge, Massachusetts. One of the primary products of Moleculon is Poroplastic, which was invented by Dr. Nichols in 1973. Poroplastic film has the mechanical properties of a typical plastic, but is able to hold large quantities of almost any liquid within its tiny pores. Current usage of Poroplastic materials centers on controlled drug delivery and environmental health and safety products. He has invented several other products for his company as well."
Baxter writes that Nichols also enjoyed making toys, and "began to experiment with small wooden cubes, magnets, pieces of metal and scrap materials. This was the beginning of a cube which would move in many different ways. He thought this particular puzzle might have some value on the market, so he showed the invention to his boss. His boss liked it and offered to submit the idea to the Ideal Toy Company, on condition of sharing the profits from the sale of this clever device. The company applied for and in 1972 received Patent No. 3,655,201 from the U. S. Patent Office. The clever cube design was then offered to the Ideal Toy Company, but the company expressed no interest in such a puzzle. A couple of years later, Rubik's Cube hit the shelves! You can imagine the dismay of the original inventor when the toy arrived on the market. His invention had been marketed by another inventor. At first, he was amused that someone else had come up with the same puzzle. He was certain that Rubik had not stolen his idea, but had come up with the idea for the puzzle independently."
The newspaper piece goes on to note that a patent infringement lawsuit resulted, and led to settlement for Ideal and Dr. Nichols.
"Designing puzzles and games became a lifelong hobby for Larry Nichols. One of the games he produced was called 'Leapin' Lizzards'. It is a clever game and easily played, manufacture by the Binary Art Company."
You're also invited to visit Dr. Nichols' website.
Back