With Renovation and Expansion Complete, DePauw Dedicates Welch Fitness Center
October 4, 2014
President Brian W. Casey and Theodore Katula Director of Athletics and Recreational Sports Stevie Baker-Watson joined with students, faculty and staff, and alumni to dedicate Welch Fitness Center today as part of the weekend's Old Gold festivities.
The new 16,000 square-foot, two story fitness center was made possible by a series of gifts from alumni and friends, including a $5 million gift from M. Scott and Kimberlee A. Welch for whom the facility is named. Welch Fitness Center provides the primary training facility for each of DePauw's varsity teams and for the campus community. It is more than triple the size of the University's previous fitness center.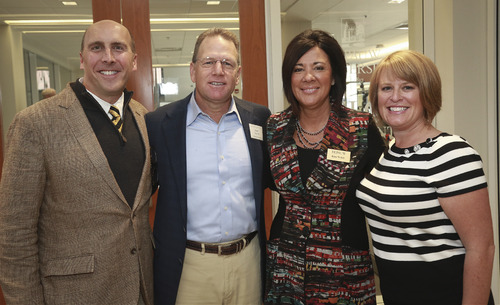 In remarks before a crowd of more than 200 in the lobby of the renovated Lilly Center for Athletics and Recreation, Casey thanked the Welch's and other for their dedication to DePauw.
"Scott personifies the entrepreneurial tradition of this University," said Casey. "[DePauw] is just so grateful to so many people who made this incredible transformation and this incredible facility possible."
"Our family believes in what DePauw is trying to do to become one of the greatest liberal arts colleges in the country. We believe in the student experience. We believe in the fantastic faculty we have, our campus, and our alumni. And if it wasn't for other loyal alumni, I wouldn't have had the opportunity to come to DePauw and I never forget that," said Scott Welch. "DePauw is very special for us. We're excited for where DePauw's going and we're glad that we could create some space that many people could enjoy."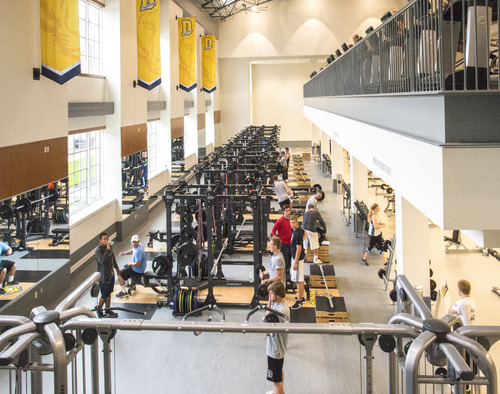 The renovation of the Lilly Center is one piece of the University's implementation of its Athletics Facilities Master Plan, which was approved in the fall of 2012.
"This end result has been fantastic," said Baker-Watson. "And that's the culmination of the planning and the forethought, but really Kim and Scott stepping forward and seeing that there was this absolute wonderful opportunity to benefit the entire athletics and recreation program on this campus."
Back