DePauw Hosts This Weekend's GLCA Students of Color Leadership Conference
November 5, 2014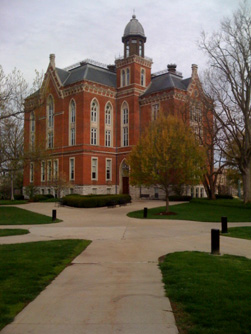 DePauw University will host the 2014 Great Lakes College Association Students of Color Leadership Conference, which takes place this weekend (November 7-9). The theme of the event is "Who Am I?: Navigating the Depths of Intersectionality as a Student Leader and Activist."
"This is a terrific opportunity for DePauw -- where students of color and international students make up nearly 30% of our student body -- to serve as a center for important conversations," says Christopher Wells, vice president for student life. "Our campus will be enriched by the perspectives and ideas students of color from our partner schools in the GLCA will bring this weekend."
Vince Greer, director of multicultural student services at DePauw, adds, "We're delighted to host the conference, which will allow students the opportunity to further explore the many facets of their identity and how that lens steers their activism and leadership styles. We hope that this conference will allow the opportunity for new and reinforced alliances, sharing of knowledge, experience, and identity across groups."
Learn more about the event here.
The Great Lakes Colleges Association, founded in 1962, is composed of Albion College, Allegheny College, Antioch College, Denison University, DePauw University, Earlham College, Hope College, Kalamazoo College, Kenyon College, Oberlin College, Ohio Wesleyan University, Wabash College, and The College of Wooster.
Back