DePauw Chamber Players Perform Wednesday Evening
November 27, 2014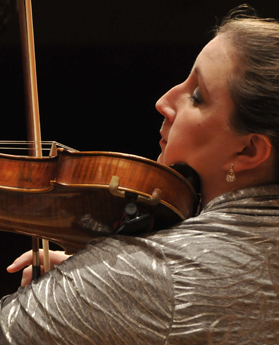 The DePauw Chamber Players, along with faculty violist Nicole Brockmann, will present a short concert, "Disorientation and Warmth: The Conflicted Musical Worlds of Mauricio Kagel and Robert Schumann." The program will take place on Wednesday, December 3 at 7:30 p.m. in Thompson Recital Hall, located within DePauw University's Green Center for the Performing Arts.
The DePauw Chamber Players -- May Phang (piano), Erica Dicker (violin) and Eric Edberg (cello) --will open with a selection from Kagel's theatrical third piano trio, completed in 2007. Works by the German-Argentine composer have been performed and made known by recent Green Guest Artist Trio Globo.
According to Edberg, "The Kagel is so complex a friend of mine said, 'It's like doing a Sudoku and sharing the results with the audience.' "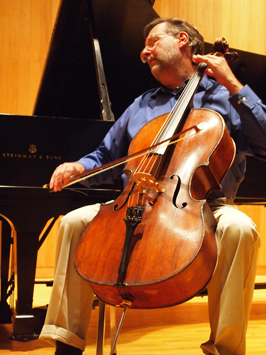 The cellist adds, "We will be playing only the second movement of the trio so that we can also do a short explanation for the audience of what to listen for, including the motives and the extended technique the string players use. We'll use a lot of special effects, and we'll show people where all the wonderfulness is in the weirdness."
If you happen to be among those who find the opening 21st-century work weird, forbearance will be rewarded by a great piece by Schumann. Following the trio, Brockmann will join the ensemble for a performance of Schumann's exquisite Piano Quartet in E-flat Major. The quartet, composed in 1842 during Schumann's "chamber music period," shows the signs of a mature composer whose intimate works can be compared with that of Mozart and Beethoven.
Regarding Schumann's chamber music, scholar John Daverio says, "These works engage listeners (as they had the composer) in an imaginative dialogue with the tradition from which Schumann inherited the special problems and concerns he addressed in the Chamber Music Year."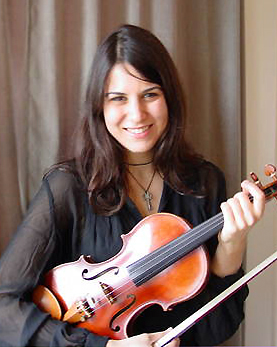 The Wednesday night concert also marks DePauw violin professor Erica Dicker's first performance with the longstanding ensemble (she is seen in the photo at right).
General admission to the Faculty Select Series is $5. Tickets for seniors, children and all students are free thanks to season sponsors Judson and Joyce Green. To ensure that any person wishing to attend a performance is able to do so, a pay-what-you-can option is available, online and on request. To obtain tickets, visit www.depauw.edu/music/tickets or the Green Center box office (765-658-4827).
Back