The Legend of Andrea Sununu
December 20, 2014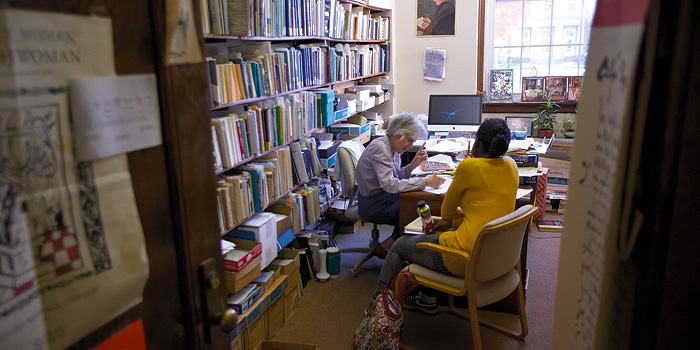 Written by Christopher L. Wolfe for DePauw Magazine, Fall 2014
I first met Professor of English Andrea Sununu in 2011, a few years into my time at DePauw. By then, I had formed a strong impression of who she was. Her name was always mentioned in a particular tone that drew knowing smiles from people who had been at the University longer than I. She was something different. My only experiences with her to that point could best be described as sightings. She always appeared to be late to something, moving briskly across campus with her eyes scanning a stack of papers.
One of her advisees, Stephen K. Worden '11, provided the occasion for our meeting. Worden had received a highly competitive scholarship to continue his studies at Cambridge, and I was to write about it for the DePauw homepage. The story I found was as much about the scholarly relationship that led to the award, as it was about the award itself. Under Sununu's guidance, Worden had written and rewritten drafts of his personal statement many times over, more than once meeting with her past midnight to go over the latest revision. Her commitment to him was remarkable.
Since then, I've met many more Wordens – students past and present who, without prompting, marvel at their time with Professor Sununu. Each one planted in my mind an argument to share her story. However, I also knew that writing about Sununu would be a challenge. One of the things that stuck with me about our first meeting was later captured in a photo of her sitting with Worden, professor with student, in her book-lined office. She was reluctant as a subject, both in the picture and in the article.
When I mentioned the possibility of a Sununu story at a meeting this summer, I also expressed doubts that she would agree to one. A coworker tried to encourage me by sharing that Sununu had been cooperative in the past – an admission video shot in 1993, to be precise. But this time we were going to be talking about her rather than with her. That he had to go back to the first Clinton term for an example was not reassuring, either.
I reached out to Sununu in an email that I now regret. In it, I told her I wanted to talk about a story involving her, though I left out exactly how much it involved her. This tactic was unfair and, in retrospect, probably unnecessary, but I thought it would at least give me a chance to make my case in person. It did.
A week later, I was in her office sharing family news – she and my wife attend a Jane Austen-themed book club, the Janeites – when I finally revealed my intentions. "Oh, dear," she said, followed by silence. Having anticipated this reaction, I asked her to think of all the students she'd taught at DePauw. How nice would it be for them, spread far and wide, to be able to connect with their beloved professor again?
Sununu politely shot down my approach as soon as the words left my mouth. She and her former students correspond regularly, she said. She thought they already heard quite enough from her. I felt sheepish. In a gesture I understood as sympathy, she promised she would think about it and get back to me. I've heard that leaving a pitch without an answer is as good as hearing "no," but she deserved the space, and I felt rotten for surprising her. Two days later, she surprised me just as much by agreeing to do the story.
Filling Margins with Notes
Some teachers have strategies for maximizing their students' abilities. Sununu's is brute force.
There are actually two parts to the Sununu legend. The first part can be quantified, which has helped to make it the most familiar to those who hear about, but never meet her.
Barring those who have donated organs, there can be no more than a handful of other professors in the United States who have given as much of themselves to their students as Sununu has. During the school year, her light in Asbury Hall often shines over Holton Quad into the early morning. She is not a night owl by nature, but keeping late office hours is the only way she can fulfill her promise of an hour-long, one-on-one conference to return each paper a student writes. Sununu is almost always reading these papers – in her office, at a soccer game, on her walk home – preparing for the conferences by filling their margins with notes.
"I feel the papers are my security blanket," Sununu said. "What do they protect you from?" I asked. "Wasting time," she replied.
We need to do some math to truly appreciate the significance of her response. Sununu is teaching three classes during the fall semester: she assigned seven papers to 13 students in the first, six papers to 11 students in the second and three papers to 15 students in the third. She requires a rewrite for each paper. If every student completes every assignment, Sununu will repeat her grading cycle at least 404 times.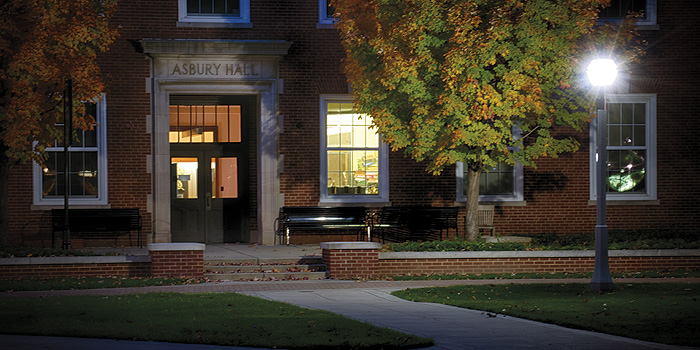 Some teachers have strategies for maximizing their students' abilities. Sununu's is brute force. Long ago, she decided to combine all the habits of her favorite professors, not caring that, collectively, these methods would require total dedication. No, she enjoys it. Sununu has taught English 120, College Writing I, every fall since the mid-1990s. It is the course with the most papers, and therefore, the most rewrites and student conferences. It is also the course in which she sees students improve the most – proof that what she does works.
I asked her longtime friend and colleague, Martha Rainbolt, professor emerita of English, whether Sununu's work ethic had inspired others in the English department to do the same. "There's a sense in which you can't do it," Rainbolt said. "She sets a standard that nobody can reach. And in some sense, we don't want to. She goes beyond what most college professors would be willing to give to their profession." The word "unfair" came up often when talking with people about Sununu. It was unfair to compare other professors to her.
Transformation in the Classroom
Part two of the Sununu legend takes place in the classroom. The Sununu I met in her office was a quiet person, happier to listen than to speak. The act of teaching, I was told, transformed her.
This transformation plays a necessary role in the story of her hiring 24 years ago. Her initial interview at the annual Modern Language Association meeting went about as well as it could have for a person who dislikes talking about herself, but the overwhelming positivity of her student evaluations excited members of the hiring committee. Their decision to interview her as finalist for the position was as fortunate for DePauw as it was well-timed; an hour after agreeing to interview a second time, she received an offer of a teaching position at St. John's University in Minnesota. Sununu arrived on campus on the last day of Winter Term, and, with most students gone, the sample class a finalist would typically teach was instead attended by faculty members. It was there that this small, shy woman captivated an audience of her peers with a lesson on Renaissance sonnets.
Hoping to witness this other Sununu for myself, I attended a session of her Honor Scholar first-year seminar. The class began with a discussion of poetry, which immediately put me at unease. But as we worked our way through poems by George Herbert and Gerard Manley Hopkins, I became a student again. Each poem was a puzzle to be solved. Sununu guided us from one verse to the next as we uncovered clever details hidden in plain English.
As a young girl, Sununu's family moved to Beirut for her father's business. Then, Beirut was not a city pockmarked by civil and regional wars, but the Paris of the Middle East. She grew up speaking English at home and both French and Arabic in school, returning to the United States for college with an unusual accent and a love of language. The classroom reveals and affirms her fascination. It was not just Sununu who came to life as we read poetry together, but also, through her, the words on the pages.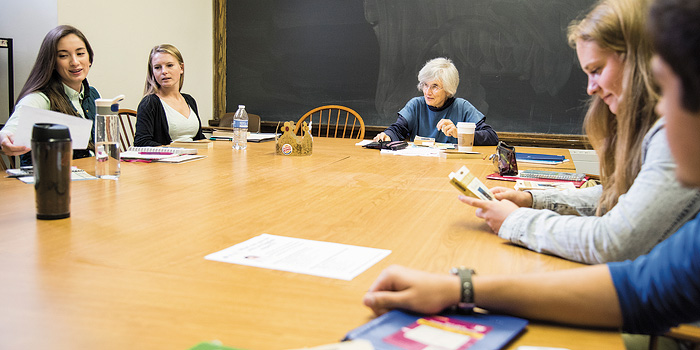 I returned to being an observer when the discussion moved to a book she had assigned as summer reading. The book, Body of Work, is a doctor's memoir about learning anatomy with cadavers – dark reading for vacation months, yes, but only one-third the size of Anna Karenina, which it replaced in her syllabus. Whenever a student commented on a passage, Sununu would write his or her name next to it in her copy. I couldn't help but think of all the well-worn books that fill her office, and in them the names of all her students.
Lifelong Impact
Although Sununu has taught for four decades – she spent time at Mount Holyoke College, Swarthmore College, Oberlin College and University of New Hampshire before coming to DePauw – each new class terrifies her. "I always wonder if this semester will be a disaster," she told me.
Only once has her fear been close to coming true. The first class she taught at DePauw, an Introduction to Poetry course in fall 1990, started out very poorly. Sununu returned to the East Coast that Thanksgiving wondering how she was going to survive the year. There are different theories for why this near-mutiny took place, depending on who tells the story. One theory – my own – is that Andrea Sununu was not yet Andrea Sununu. (Case in point: a student in her first-year seminar this semester told me she first heard about Sununu's reputation from someone in the Registrar's Office, long before arriving on campus.) Thankfully, Sununu was able to clear the bad air and salvage the class.
In recalling the experience, Sununu mentioned a student who protested his grade during their first conference together. Later in the semester, he returned to tell her that she had been right, and a few years later, he provided her introduction in the admission video my coworker had mentioned. The student had taken only one class with her, and she hadn't spoken with him since his graduation.
Back at my desk, I watched the video again. Sure enough, there he was, Stanford "Stan" K. McCoy, Class of 1993. Out of curiosity, I reached out to McCoy, now senior vice president and regional policy director for the Motion Picture Association in Europe, the Middle East and Africa. He returned my call while waiting for a cab ride home from the train station in Brussels. When I asked about the video, he told me that his comments weren't scripted. The interviewer had pressed him for reasons why a DePauw education was unique, so he talked about Andrea Sununu.
Sununu doesn't just correspond with her former students. She visits with them while on vacation. She does readings at their weddings. One couple who met in her class named their child after her. And yet, my chat with McCoy struck me as important. Not yet returned from a long day of work and travel, he was happy to talk about a professor he hadn't seen in two decades. I told Sununu about the conversation and gave her McCoy's email address. That weekend, she sent him a note.
Who is Your Andrea Sununu?
When DePauw alumni talk about their student experience, they often recall a professor who made DePauw a special place or had a profound impact on them. Spread their legend by sending a letter about "your Andrea Sununu" to DePauw Magazine. We will print your letters in the next issue. Please limit letters to 200 words.
Send letters to: Editor, DePauw Magazine, P.O. Box 37, Greencastle, IN 46135-0037. Or send email to: landersn@depauw.edu.
Back