I Believe
December 29, 2014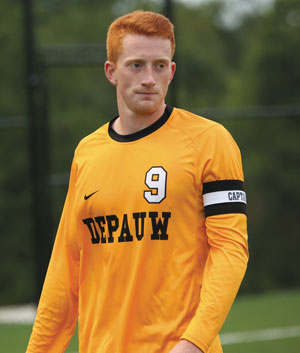 Andrew "Andy" Morrison '15, co-captain.
It's the fall of 2010, and men's soccer was on a tear.
The team, now in the North Coast Athletic Conference, was in its final season in the Southern Collegiate Athletic Conference.
The Tigers' first five games? All shutouts.
3-0. 2-0. 3-0. 1-0. 1-0. Out of 18 games, they held their opponents scoreless in 12.
Goals allowed all year? Eight.
Their losses? Just two.
The first was an overtime loss to perennial Division III soccer powerhouse Ohio Wesleyan University, a team that would go on to reach the quarterfinals of the NCAA tournament that year. The second was a 2-1 heartbreaker to Trinity University (Texas), then ranked number one in the country and poised to make its own run in the tournament.
To recap, the DePauw team is 14-2-2, with an absurdly low goals against average (.43), and its only losses came against two of the strongest teams in the nation.
The Tigers had tournament bid written all over them. At least in theory.
Anyone who followed that team knows how this ends, and it doesn't end well. The biggest surprise of that season, without question, was that DePauw's bid never arrived.
Despite its record and many convincing wins, DePauw didn't have wins against "regionally ranked teams." What does that mean? Basically, the team's schedule against other top teams in the Midwest wasn't strong enough, so the NCAA selection committee passed on DePauw – a bubble team that had expected to be a sure thing.
So, shocked and in disbelief, DePauw soccer sat in Greencastle, left out of the action.
Thankfully, this isn't where the story ends. And here's where we pick up with the latest signature player to take the field for the Tigers: current senior co-captain Andy Morrison.
As team members gathered to hear their fate for the tournament five years ago, Andy and fellow recruit Jacob "Jake" Pezzuto just happened to be making a campus visit. They were standing there as the team got the news.
"The guys were crestfallen," said Pezzuto, who is now the other co-captain and starting goalkeeper for the Tigers. "They couldn't believe they were robbed. They deserved more."
And, so began the battle back.
You can't miss Andy. His bright red hair makes him easy to spot.
He first landed on the radar of Coach Brad Hauter '87 at DePauw's soccer camp during the summer before Morrison's senior year of high school, the summer before the Tigers' 14-2-2 season.
"If we could have taken him before his senior year, we would have," Hauter said. "He could have started for us as a senior in high school. He was that good. He blew the top off that camp."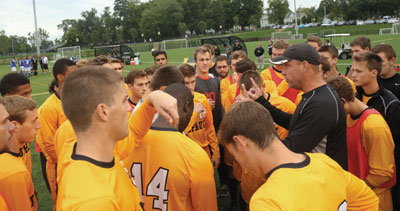 Head men's soccer coach Brad Hauter '87, who was a four-year
starter at DePauw, talks to his team during a match
with Thomas More College.
Morrison was a smart kid and the oldest of four children from a hard-working family in Bristol, Ind., a smallish town near South Bend. Perhaps not surprisingly, he grew up playing sports. Basketball. Golf. Soccer. Basketball was his favorite, just like it was for his dad, who was known to play pick-up games at the local YMCA until he was at least 45.
When it came to picking a sports path, though, soccer was it. Morrison was having success, lots of it. Summer leagues. Club soccer. Other teams tried to poach him, including one more than an hour away in Kalamazoo, Mich.
In today's soccer culture, most of the nation's top talent comes through the United States Development Academy. It is, quite literally, the feeder system for the men's national team. It's designed to find and then develop the future Clint Dempseys, Michael Bradleys and Jozy Altidores. But if you live in Indiana, there's only one club affiliated with the academy, and it's on the north side of Indianapolis, almost three hours south of Morrison's hometown.
The next best option for an upstart kid with loads of talent? A team that was then known as the Fort Wayne Fever. Affiliated with the USL Pro league, a tier below the better-known Major League Soccer clubs, the Fort Wayne Fever put a lot of young talent on the field.
"I was playing with, basically, all Division I players," Morrison said. "Kids that are playing in the MLS that were top 10 picks in the draft. It was the highest competition."
And the Fever were definitely good.
In the summer before his senior year, Morrison and the Fever – which then played in the Super Y League – qualified for the North American Finals, which meant that after his senior high school season was over, Morrison would still be playing soccer. This time, it would be in Tampa, Fla., with some of the best players in the country.
While his soon-to-be college team was sitting out the postseason, Morrison still had some business to tend to. Named to the all-tournament team, he scored four goals in five games. The team ultimately lost on penalty kicks in the finals.
If that summer camp wasn't enough to make Morrison a marked man coming in as a freshman at DePauw, then his play in Tampa made sure of it.
Fast-forward eight months to fall 2011, the season after DePauw's heartbreak.
Morrison is starting his freshman year. And coming into the next season, the Tigers were ready to play.
"[It] was the only thing you could possibly think of, making the NCAA tournament," said Brandon Johnson '14, then a sophomore defender. "We were so close, and we knew we could play at that level."
The team was stacked with talent.
To name just a few, there was Division I transfer and soon-to-be all-American Sam Meyer, a forward. There was Andrew Dasmarais, a four-year starter. There was the keeper, Nathan Sprenkel, who's now on the roster for the Indy Eleven, the start-up professional club in Indianapolis.
And then there was Andy, the freshman.
Everyone knew he was going to play, and he did.
"He had the walk of a starting 11 player," Pezzuto said. "He had the talent of a starting 11 player. He carried himself off the field as a competing player."
Morrison scored twice in his first game, on his way to eight goals in his first nine games. He landed NCAC Player of the Week honors and finished his freshman year with 10 goals and seven assists.
And the team? It did OK, too. The Tigers avenged the earlier loss to Ohio Wesleyan, beating them on Morrison's birthday, on OWU's home turf, to win the North Coast Athletic Conference tournament and get that elusive bid to the NCAA postseason.
But talking about the success makes it seem like chance, like it wasn't the product of hard work and smart decisions by players such as Morrison.
The homepage of the DePauw men's soccer website used to boast that the team hadn't posted a losing season in more than 30 years.
"Every time I saw it on the website, it would make me sick," Hauter said.
For the record, he wasn't putting down teams of years past. After all, he played on four of them. His point was that his teams, the teams that have taken the field for the Tigers since at least 2010, made a choice for something different.
If you spend a little bit of time around the men's soccer program today, that becomes clear. This is a group that made a choice to be good. They made a choice to get better. They made a choice to work hard.
"When you get like-minded, focused individuals together, great things can happen." So says Coach Hauter.
It's kind of cliché to write that. It's kind of cliché to say it in the first place. It's almost boring. But that doesn't make it any less true.
That's the program that Andy Morrison joined. That's why it was a good fit for a kid who – per Hauter – is "our hardest worker in training." A kid that "doesn't take a moment of practice off."
The work has paid off. In each of his first three years on the team, he was named to the all-North Coast Athletic Conference team. As a junior, he was named an all-American after scoring 14 goals and notching seven assists. In total, he scored 36 goals in three seasons, putting him within striking distance of the DePauw record of 48 career goals.
In addition to on-the-field honors, Morrison more than holds his own in the classroom. With a GPA north of 3.7 as an economics major, he also nabbed Capital One Academic All-American™ honors.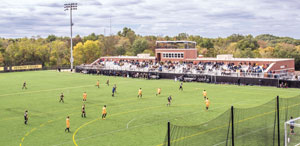 With construction complete in August, Reavis Stadium
(located just south of Blackstock Stadium) is the new
home of DePauw field hockey, lacrosse and soccer.
Andy is among the best players to ever put on a DePauw soccer uniform, but he's not the only great one – today or in history. Part of what makes him so good is that he's smart and humble enough to know that.
He's not a huge talker. He's intense in a confident, friendly way. He looks you in the eye when you talk to him. And his friends joke that he doesn't know how to rest.
You quite clearly get the sense that this is a kid who takes things as they come, and then works like hell to make the best of whatever situation in which he might find himself.
"There are kids that you meet, and they're not sure who they are yet," Hauter said. "They're this way around their friends, and this way around their coaches, and this way around their parents. Andy is Andy, and it doesn't matter who is in the room with him; he's going to be a polite, honest, hard-working good guy."
If you get him to talk about his freshman year, he'll say things like this:
"I got off to a hot start, but a lot of it was because Sam Meyer – just an amazing player – was really able to open things up for me because he was being defended so much."
Or this: "It's great to score goals, but it's just as rewarding when you're possessing the ball and controlling the game."
As a reminder, this is the same kid who started the year a mere 12 goals shy of DePauw's all-time scoring record. He could be forgiven for taking wild shots, for trying to force things so that he gets to do what he does best: finish.
Yet, when you talk to those around him, they give him accolades for other things. Seeing plays develop before they do. Knowing where the ball needs to go without having to look or think. Playing a through ball to a teammate in position to make a run into the box. And doing it all unconsciously. (Maybe that's why he's also sneaking up on the all-time assist record as well.)
As for what Morrison himself says about that pesky scoring record?
"I've never heard him talk about it. I've never heard him mention it once," Pezzuto said.
Well, he doesn't have to. The rest of us will.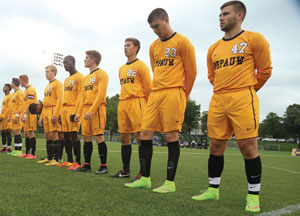 The starting lineup takes the field before the national
anthem during a game against Thomas More College.
Now in his senior year, Morrison has battled for the conference championship, winning two (in 2011 and 2012). He's played in the NCAA tournament (2011 and 2012). He's been left out of the NCAA tournament (2013). And this year he's playing for one last shot at the ultimate goal: winning a national championship.
Things haven't gone exactly according to plan.
This year the Tigers scheduled their strongest out-of-conference play yet. Early matches against John Carroll University and powerhouse Ohio Northern University guaranteed that they'd get credit for matching up against some of the best teams in the Midwest.
Game one?
"We were thoroughly out-played. Played pathetic. But we got away with the win," said Morrison, in his very straightforward, honest fashion.
Game two?
The Tigers came out against Ohio Northern and played "the best half of soccer … I've ever been a part of," Morrison said.
They're up 2-0 at halftime. They say that a 2-0 lead is the most dangerous in soccer. And it proved to be.
The Tigers gave up two goals in the second half and a third in overtime.
The first half of the season would bring other ups and downs, including wins against then-regionally ranked teams such as Hiram College and Thomas More College, but also a fluke loss at Franklin College and heartbreaker at Ohio Wesleyan. Amidst all of this, Morrison was sidelined for a game, and part of a few others, with a hamstring injury. As the season came to a close, a loss against Allegheny College and a tie against Wabash College threatened to officially put dreams of postseason play on ice.
This wasn't how it was supposed to go for a kid, and a team, that had done it all the right way.
At press time, the Tigers were celebrating a win against Denison University in their last regular season match of the year, a win that landed them the final spot in the conference tournament where they'll face the top seed: Ohio Wesleyan.
Yet, the ever-studious and composed Morrison is (or seems to be) unfazed.
"Our first and only goal right now is to make the conference tournament," he said as the season wound down. "Once we get there, we'll reevaluate."
Of course he will. He'll think about it carefully. He'll take things as they come. And he'll make his next move with that in mind.
Classic Andy Morrison. Classic DePauw soccer.
(written by Jonathan C. Coffin '06, this article appears in DePauw Magazine)
Back