John Hirschman '91 Takes Reins of Browning Investments
April 13, 2015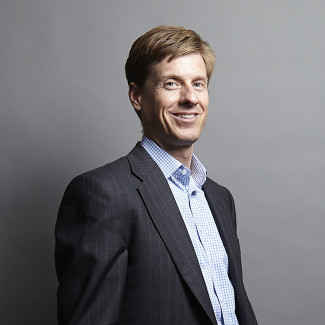 "I guess I'm the classic case of English-major-turned-developer," quips John F. Hirschman, a 1991 graduate of DePauw University, who is the president and CEO of Browning Investments Inc. Hirschman is quoted in an Indianapolis Business Journal story on Michael Browning, the man he is succeeding as leader of "perhaps the city's most formidable office developer," as Scott Olson reports.
Hirschman "practiced real estate at Faegre Baker Daniels from 2002 to 2005," notes IBJ. "He left to join Browning Investments as its director of development and stayed until 2012. He rejoined Faegre Baker Daniels for a year before getting the call in 2013 from Browning to groom for the CEO's job. An Indianapolis native, Hirschman is a graduate of North Central High School and DePauw University. He earned a master's degree in English at the University of Alabama and his law degree from New York University."

Olson writes, "In recent years, Browning Investments has branched beyond its industrial bread-and-butter to dip its toes into mixed-use, health care and higher-education projects. The firm this month started construction on The Coil, a
$37 million, 150-unit apartment-and-retail project along the Central Canal in Broad Ripple to be anchored by a Fresh Thyme Farmers Market."

Read the complete article by clicking here.
Back