Three from DePauw Receive Grants from Arts Council of Indianapolis
April 24, 2015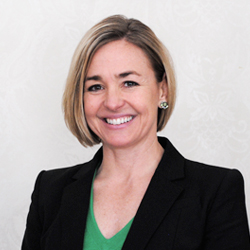 Two DePauw University faculty members -- Meredith Knapp Brickell, associate professor of art and art history; and Brian James Priest, part-time associate professor of art -- an 1991 graduate Keira Amstutz, president and CEO of Indiana Humanities (pictured at right), are recipients of a 2015-16 Creative Renewal Arts Fellowship from the Arts Council of Indianapolis.
Launched in 1999 by the Arts Council of Indianapolis, the program allows artists and arts administrators the opportunity to reinvigorate their work by renewing and refreshing their creativity. Fellows are awarded a $10,000 grant that they may use toward activities they believe will refresh their creativity and recharge their work.
The Arts Council convenes a national panel of arts professionals
to adjudicate the applications and select the fellowship recipients. Since its inception, the Arts Council has awarded more than $3 million in grants to 370 fellows. Grants are awarded on a biennial basis and funded through a grant from Lilly Endowment Inc. (at left: Prof. Brickell with a student at DePauw's Peeler Art Center)

"The entire community benefits from having professional working artists in central Indiana and the Creative Renewal Arts Fellowship provides those artists with the chance to renew their creativity," states Dave Lawrence, president and CEO of the Arts Council. "We are grateful to the Lilly Endowment for its ongoing support of this program and look forward to the impact it will have on this latest group of fellows."

Read more here.
Back