TV Program Airs DePauw Interview with Former VP Dan Quayle '69
April 26, 2015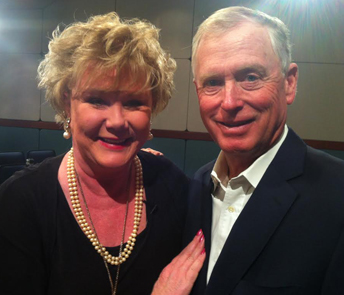 "I think I've made a difference in the House, the Senate and as Vice President," Dan Quayle says. "That's what you get into politics for -- to make a difference."
The 44th Vice President of the United States and 1969 graduate of DePauw University was featured on today's edition of Boomer TV, a program which airs on WISH in Indianapolis. Patty Spitler interviewed Quayle on March 31, when he was back at his alma mater as a guest of the Ubben Lecture Series.
The third-youngest vice president in American history when he took office with President George H.W. Bush in 1989, Quayle previously was elected to two terms each in the U.S. House of Representatives and U.S. Senate. He is now chairman of Cerberus Global Investments.
Learn more at the station's website. Video of the segment is also embedded below.
A summary of Vice President Quayle's visit is available here. A video montage of his two days at DePauw is posted below.
Source: 'Boomer TV'/WISH (Indianapolis)
Back