Column Remembers "Remarkable Hoosier," WWII Ace Alex Vraciu '41
May 10, 2015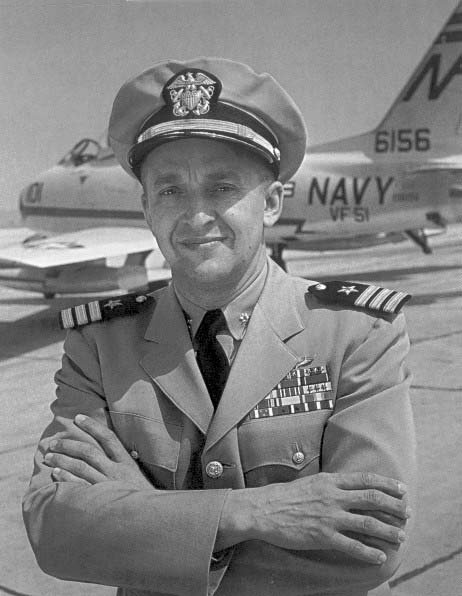 As Indiana prepares to celebrate its bicentennial next year, "it is an appropriate time to study and enjoy our Hoosier heritage," writes Mickey Maurer in the Indianapolis Business Journal. His column focuses on a "remarkable Hoosier" whose story is not widely known today, "Alex Vraciu, the indestructible ace of World War II."
Maurer notes, "Alex Vraciu's life spanned the last century. He was born in 1918 in East Chicago and died earlier this year at age 96. At the time of his death he was the ranking U.S. fighter ace. Vraciu's parents lacked the funds to send him to college, but Vraciu earned a scholarship and graduated from DePauw in the early 1940s. Already armed with a civilian pilot's license, he enlisted in the navy flight-training program just six months before the Japanese attacked Pearl Harbor. According to his son Robert, he could feel the wind of war and wanted to get out in front of it. He earned his wings and entered combat in 1943 as part of the Fighting Squadron 6."
A 1941 graduate of DePauw, Vraciu became the stuff of legend for his role in the June 19, 1944 "Marianas Turkey Shoot" in which he shot down 6 Japanese dive bombers in an eight minute span.
"He was just 25 when he reigned as the Navy's top World War II fighter ace," Maurer writes. "In only eight months, he scored 19 Japanese aircraft and destroyed 21 more on the ground ... Vraciu was twice nominated for the Congressional Medal of Honor. The nominations were supported by six admirals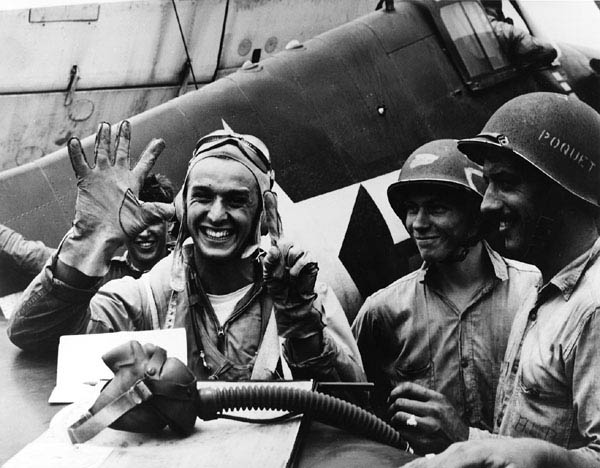 and captains in the field but were denied by a 'desk admiral' in Honolulu who said "Vraciu was just doing his job and was good at it." That he was. He did receive many medals, including the service's second-highest honor, the Navy Cross. Returning to Indiana in August 1944, he was honored with a parade in East Chicago that included Gov. Henry F. Schricker. During the parade, he met Kathryn Horn as his car passed her house. He kissed her. They were married within two weeks and remained married until her death 58 years later." (photo: then-Lieutenant Alexander Vraciu aboard the U.S.S. Lexington shortly after downing six Japanese dive bombers in a span of eight minutes during the First Battle of the Philippine Sea; June 19, 1944)
Access the complete column at IBJ's website.
Alex Vraciu died January 29 in California. He is the subject of the 2010 book, Fighter Pilot: The World War II Career of Alex Vraciu.
Source: Indianapolis Business Journal
Back