Amanda Miller Luciano '03 on Transitioning from Journalist to Realtor
June 19, 2015
"Colorado Springs native Amanda Miller Luciano worked in journalism for nearly a decade before deciding last year to become a Realtor -- a career that was always of interest, but never before a serious option," begins a profile of the 2003 DePauw University graduate in the Colorado Springs Business Journal. "While working as a freelance communications professional, she completed her real estate licensure last March and joined Synergy Realty Group as a broker associate of both commercial and residential properties."
Miller Luciano tells the publication, "I went to DePauw University in Indiana, studied communications and worked at the school newspaper, and interned at newspapers. Journalism was always my focus. Then I lived in some pretty interesting places -- Alaska, London, South America -- before coming home."
She eventually moved to Colorado Springs to be close to her now-husband. "I wrote for the Business Journal, covering mostly commercial and residential real estate. So I followed those markets and got to know a lot of people involved in both and found it very interesting. I also got to talk to a lot of entrepreneurs and business owners and realized that was what I wanted to do, too. I didn't want to work for someone ... and that stuck in the back of my mind."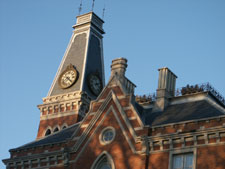 Amanda Miller Luciano was a communication and English (writing) double major and was editor of The DePauw.
Access the complete piece here.
Back