Common Spaces and Commonplaces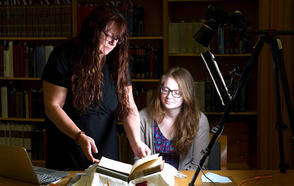 July 14, 2015
This summer, members of the DePauw community have filled the Percy Lavon Julian Science & Mathematics Center atrium to share lunch – and research.
Forty-five students remained on campus following the end of the spring semester to collaborate with faculty members on summer research projects. These research teams provide a scholarly form of lunch theatre to the Julian Center crowd every Monday, presenting their work over the sounds of sandwich wrappers and chip bags being politely emptied.
The presentations touch on nearly every discipline at the University, from anthropology, history and art, to chemistry, biology and computer science. On one Monday afternoon, senior Honor Scholar Hannah N. Bradley expanded the list into the literary realm.
Working alongside Assistant Professor of English Tamara L. Stasik, Bradley is studying a commonplace book, or writer's journal, that traces its origins to 17th century England. Attributed to another Hannah – Hannah Swynock – it is a seemingly common commonplace, containing notes and excerpts borrowed from other pieces of writing. But, while almost nothing is known about Swynock herself, the manuscript's last owner was a person of definite importance. It had belonged to the library of Thomas Parker, First Earl of Macclesfield, who served as Regent of Great Britain and Ireland for two months following Queen Anne's death in 1714.

Writing Fills the pages of Hannah Swynock's commonplace.
Bradley and Stasik traveled to Indiana University's Lilly Rare Book Library, where the book now resides, to photograph each page for off-site transcription. In addition to identifying who Swynock was and why her commonplace ended up in the collection of one of Britain's most prominent nobles, Bradley and Stasik are using techniques such as paleography, the analysis of historical and ancient handwriting, to uncover details about the manuscript itself. One such detail has added another layer of intrigue to their research: Swynock's commonplace seems to have had multiple contributors.
"There are vast differences between the handwriting within the commonplace," Bradley says. "I am interested to find out how and why more than one person was writing in this book, and what that may tell us about its use and the chronology of the manuscript."
Back