Scotty Stepp, Paul Bro and Friends Perform for Faculty Select Series, Sept. 10
September 1, 2015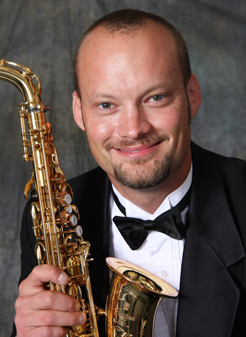 The 2015-16 DePauw University School of Music Faculty Select Series opens Thursday, September 10, as saxophonist and DePauw faculty member Scotty Stepp (pictured at right) and guest artist Paul Bro (seen below left) perform along with a few of their musically talented colleagues. The collaborative concert will be given at 7:30 p.m. in Thompson Recital Hall within the Judson and Joyce Green Center for the Performing Arts.
The program begins with David Maslanka's hauntingly beautiful work Out of This World, written for classical saxophone, cello and piano, performed by Bro, cellist Kurt Fowler and guest pianist Martha Krasnican. Contemporary Japanese composer Takashi Yoshimatsu's Fuzzy Bird Sonata, featuring Stepp and Krasnican, will be followed by two movements from Links Two by Dan Powers, composer-in-residence with the Terre Haute Symphony Orchestra, along with two duets by Juan Ruiz, Lejanias and Avenida La Playa. The Solaire Saxophone Quartet then shares the stage with collaborating musicians Sam Fritz and Erika (Matson) Stepp '13, featured on tenor and baritone sax respectively, as they close the concert with The Mechanics by Carter Pann.
Bro, professor of the music at Indiana State University in Terre Haute, has performed throughout the United States and Canada as well as in Austria,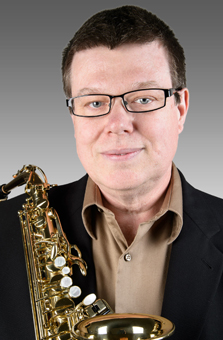 France, Germany, Italy, Japan, Russia, Spain, Taiwan and Thailand. He is a member of the Chicago Saxophone Quartet, the Solaire Quartet and the Bro-Fowler Duo.
Stepp, a well-known musician to the region, directs the saxophone studio at DePauw School of Music and has performed throughout the United States, Europe and China. Most notable are his performances at the United States Embassy in Paris, France; the German-American Fulbright Program's 50th anniversary conference in Berlin, Germany; and performances in Greece, Cyprus and Italy.
General admission tickets to Faculty Select Series concerts are $5; tickets for seniors, children and all students are free. For more information and online purchases, visit www.depauw.edu/music/tickets. All Access Season Passes will continue to be available for sale through Sept. 10. To obtain tickets or passes in person on any weekday, stop by the School of Music's main office, located within the Green Center. The box office will also be open beginning one hour prior to the Thursday concert.
Back