Sportswriter Ron Gilbert '34 Had "The Best Seat in the House" for a Legendary Game
September 17, 2015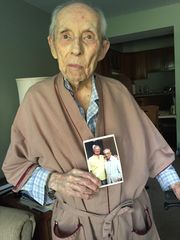 On March 20, 1954, a night that is legendary in the annals of Indiana high school basketball history, "I had the best seat in the house," 1934 DePauw University graduate Ron Gilbert tells the Indianapolis Star. Gilbert, a sportswriter, was working for the Associated Press on the night tiny Milan High School defeated Muncie Central to win the state championship, a story that is the basis for the movie Hoosiers.
Now 103 years old, Gilbert remembers sitting on press row behind the Milan bench to witness and write about a game that people still discuss 61 years later. Milan won, 32-30, after trailing 28-26 in the final quarter.
Gregg Doyel writes, "His memory is sharp if imperfect, like the way he remembers Bobby Plump running the clock below the three-minute mark, getting fouled and tying the score at 28-28 with two free throws. What really happened? Plump ran the clock down and missed a shot, but Milan teammate Ray Craft later tied the score at 28. But the ending -- and almost everything else he tells me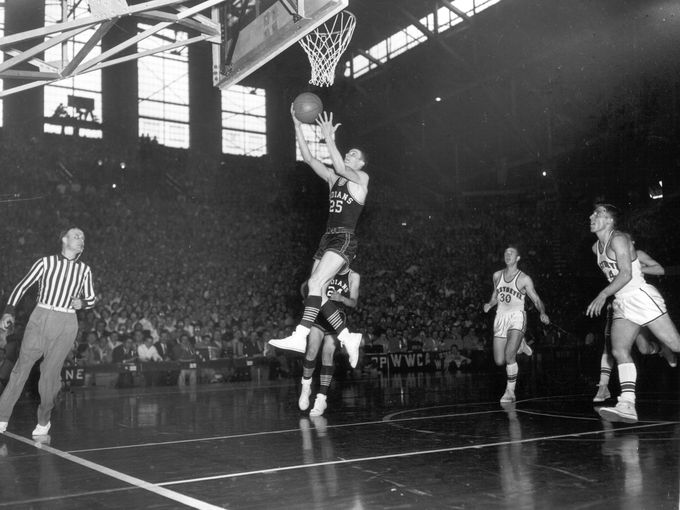 -- is seared perfectly in his memory. This is what the rest of us saw on film from a fictional character named Jimmy Chitwood, and what Ron Gilbert saw live from a man named Bobby Plump, a man he met decades later at Plump's Last Shot restaurant in Broad Ripple: 'He started dribbling, around the right side of the free throw circle, and arched the shot that made history,' Gilbert says."
Doyel's column notes, "Remington High was tiny, and Ron Gilbert was valedictorian of a class of 18. That earned him a scholarship to DePauw, and good thing for that because the Depression hit while he was in school and there was no money for tuition."
An English major at DePauw, after graduation Gilbert started his own newspaper in Remington, "and had 400 subscribers at $1 a year before getting a job at the paper in Warsaw, then Fort Wayne, then the Star, where he smoked his pipe and pulled dispatches off that teletype machine. Then the AP for 23 years, then his final job, director of news services for Tri-State College, in 1967. He retired in 1972. But men like Ron Gilbert, real newspapermen, they can't just quit. A few years back he became editor of the Robin Run [retirement center in Indianapolis, where he lives] newsletter,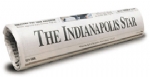 Chirpings."
Access the complete text at IndyStar.com.
Source: Indianapolis Star
Back