Nichole Wilson '99 Among Indy's 'Women of Influence'
November 6, 2015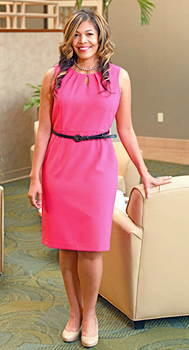 Nichole Wilson, executive director of sports medicine, physical therapy and rehabilitation at Community Health Network and 1999 graduate of DePauw University, is among the Indianapolis Business Journal's "Women of Influence." The program "recognizes women who have risen to the highest levels of business, the arts and community and public service in central Indiana."
"When Wilson joined Community Health Network, she was working on her clinical doctorate from the University of Indianapolis," notes her profile. "She did her undergraduate work at DePauw University, majoring in sports medicine. The education and therapy experience paid off when her boss at Community Health called asking 'Do you know anything about sports medicine? We want to go into that market. Do you think you can help us build it?' She said yes, but pointed out what needed to come with it -- getting different types of physicians into the network and other changes."
Wilson joined Community Health Network in 2005. According to IBJ, "Under her watch, six clinical sites grew to 18 through acquisitions and internal expansion. Previously nonexistent weekend hours were added to the offerings, specialty therapy services were increased, and wait times plummeted from two weeks to two days or less.
As a result, patient satisfaction scores reached an all-time high and revenue grew 127 percent. In a remarkably short time, she helped put Community Health Network on the sports medicine map."
Read the complete piece at the publication's website.
Back