Michael Engle '11 is Offensive Coordinator at West Virginia Wesleyan College
February 24, 2016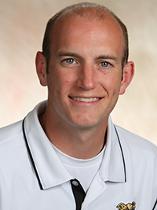 Michael Engle, a 2011 graduate of DePauw University, has been named offensive coordinator at West Virginia Wesleyan College, an NCAA Division II football program. Engle had been wide receivers coach at Bryant University for the past four years.
WVW head coach Del Smith says, "Michael has a dynamic football mind and comes from a coaching family. He has proven in his short amount of time here that connects well with our players and is extremely organized in his approach."
He adds, "On this level, when you spend as much as we do together, it is important to surround yourself with people you know or have close connections to. Michael came highly recommended from colleagues within this profession that I have a tremendous amount of respect for. Coach Engle is going to have a very successful career going forward and we feel very fortunate to have him as a part of our rebuilding process here."
Engle, who majored in political science at DePauw, started his career as running backs coach for the Tiger. He states, "We talk a lot here about being part of the solution. Right now, my focus is on doing everything in my power to put this football team in a position to be successful and to help the young men who are a part of our program be equally successful, on the field and in the classroom."
"Engle had an outstanding playing career at DePauw, and afterward bypassed plans to attend law school to enter the coaching profession," notes the Terre Haute Tribune-Star. "As a player at DePauw, Engle earned the starting quarterback job as a senior and led the Tigers to a Southern Collegiate Athletic Conference championship and the NCAA tournament in 2010. He completed 282 passes for 3,180 yards and 30 touchdowns in his final season. Engle averaged 289 yards per game, completing 65 percent of his passes on the year."
According to Engle, "One of the things I enjoy most about this profession is that we, as coaches, have the ability to help shape the lives of young student-athletes every day. We have the privilege of teaching them about what it takes to be successful, not just on the football field, but in the classroom, in their communities and, ultimately, in life. I think one of the

most satisfying parts of being a coach is seeing the young people we work with every day challenge themselves and grow and develop into better players and, more importantly, better people."
You'll find the complete story at the newspaper's website.
Source: Terre Haute (Ind.) Tribune-Star
Back