Alpha Kappa Alpha Celebrates 25 Years at DePauw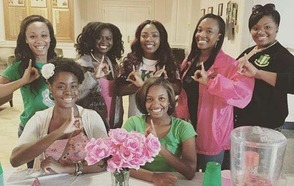 March 10, 2016
The Pi Lambda Chapter of Alpha Kappa Alpha Sorority, Incorporated, the first black Greek-letter organization at DePauw, is celebrating their silver anniversary. Chartered at DePauw on March 23, 1991, AKA has been an example of philanthropic involvement and accomplishment for 25 years.
AKA's members strive to live up to their purpose, "Service to all Mankind," which keeps their goals and initiatives from becoming stagnant or one-dimensional. Rather, they hope to impact the lives of every demographic group, age and socioeconomic status. "Every four years we get a new international president who sets new program goals and platforms, and we try to implement those," senior Ariel Cheatham says. "Our sorority doesn't focus on just women or African Americans. We want to have a positive impact on people all around the world."
Cheatham believes her sorority has set the standard and tone for Greek life at DePauw ever since its establishment by the "Pearls of DePauw": Joy Armstead Thompkins '91, Robin Batties Pritchett '91, Ronda Henry Anthony '90 and Gina Ross '88. "Those are the kinds of women we try to attract in our organization," she says. Because it takes leaders to make positive change. Though their numbers are small, members of the Pi Lambda Chapter have impacted the campus through the creation of Exalt, the DePauw gospel choir, and partaking in the first internship in DePauw's Women's Center. Some of them have also gone on to become members of the University's boards of visitors and trustees.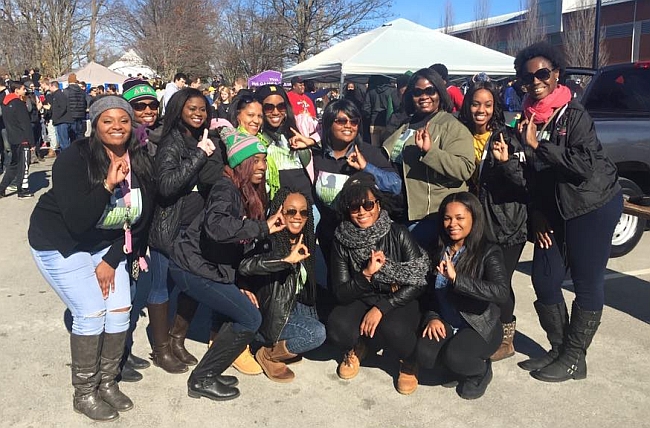 "Having a smaller chapter, you get to know people much better," Cheatham says. "I value it more as a small group." The eight current members have organized their anniversary celebrations, including a Tea Rose Scholarship Banquet and community service collecting school supplies for children around the world.
During her time as as member, Cheatham's fondest memories are of getting pinned by her mother, who is also a charter member, and her first trip to a regional conference. "Being around thousands other women that have the same purpose and goal to impact the community was great. At the end of the day we are all in a sisterhood."
Cheatham also appreciates the support they have received from the University, from the Office of the President to the campus in general, "to make sure that we are still here."
"That is why we are still here and hope to still be here in the future," she says.
Back