Steve Hollar '89 and Other Hoosiers Notables Reunite for Fundraiser
April 10, 2016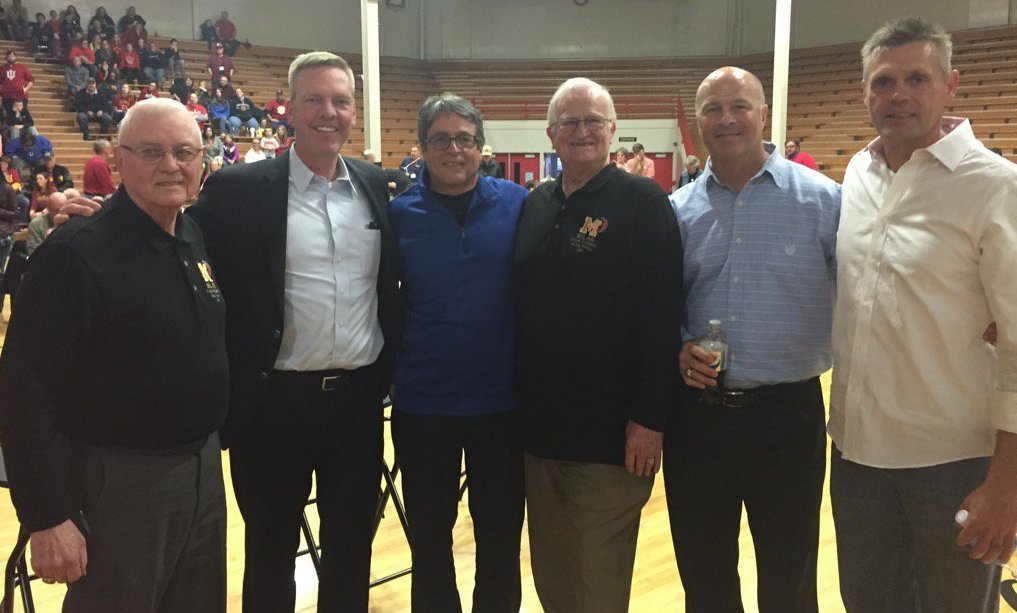 As the Indianapolis Star reports today, "key contributors to both the Hoosiers movie and the 1954 Milan team that inspired the movie gathered Saturday night at the historic Rushville gym for a charitable fundraiser for the renovation of the Princess Theatre." Kyle Neddenriep writes, "Included were Angelo Pizzo, the screenwriter and producer of the movie, and Valainis' teammates from the movie, Steve Hollar (Rade) and Brad Long (Buddy). Bobby Plump and Ray Craft from the Milan team also signed autographs and posed for pictures with fans before taking part in a roundtable discussion of the movie and the real Milan story. The movie, which is coming up on its 30th anniversary, was then shown for fans in the gym." (top photo: Hollar, second from left, at the Rushville event)
Steve Hollar graduated from DePauw in 1989 and played for the Tiger basketball team. He earned $17,000 for his role in the movie and went on to become a dentist in Warsaw, Indiana, where he still practices today.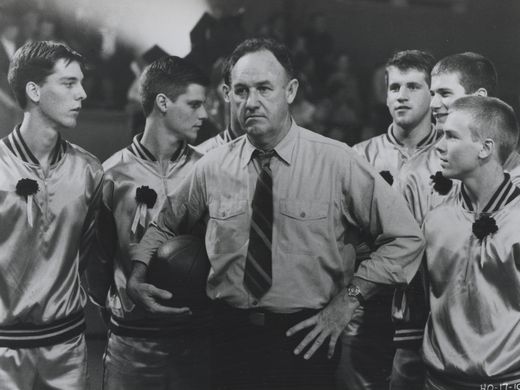 "Hollar, who played on Warsaw's 1984 state championship team, was never fond of the character name 'Rade' he was given in the movie," Neddenriep notes. "That is, until Saturday. Todd Zimmerman of Connersville told Hollar in the autograph line that he named his 4-year-old son Rade." (photo: Hollar, at left, in a publicity still from Hoosiers. Gene Hackman is in the center of the shot.)
Zimmerman tells the paper, "I've watched that movie 100 times and I always liked the name. I liked the character. He's one of the cooler characters in the movie. 'Pass the ball, Rade,' is one of my favorite lines in the movie."
Access today's story at IndyStar.com.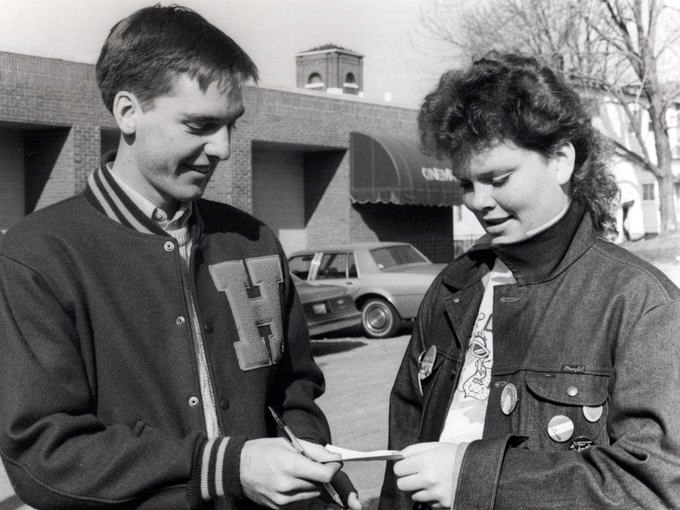 In 2011 during the film's 25th anniversary year, Hollar told Greencastle's Banner-Graphic, "But you want to talk about a DePauw education, it really has served me well, especially when you consider that the role of college is to make you think, reason and communicate." (at right: Hollar signs an autograph outside Greencastle's Ashley Square Cinema in 1986)
Steve Hollar, who majored in communication, was featured on Indianapolis CBS affiliate WISH in 1986 and Chicago's WLS-TV a year later. Learn more in this summary.
Source: Indianapolis Star
Back