A Civil War Treasure
April 13, 2016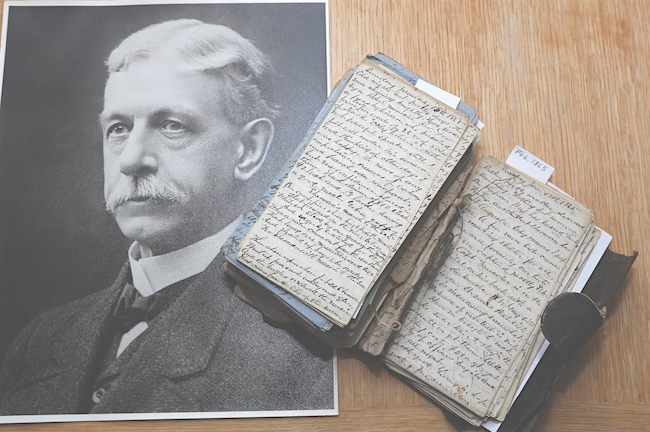 A 700-page Civil War diary written by James Riley Weaver was given recently to DePauw Archives and Special Collections. Not only is it a unique piece of history, detailing every day of his life in active service and Confederate prisons, but Weaver also had strong ties to DePauw.
The diary begins in June 1863 and continues through Weaver's capture in October of that year and his release nearly 18 months later. A lieutenant serving in the 18th Pennsylvania Cavalry in the U.S. Army, Weaver was one of several soldiers who became separated from the main group and were surrounded by Confederate troops. They spent a few days as prisoners in a Confederate encampment and then were taken to Libby Prison.
Weaver eventually was a prisoner of war in more than a half dozen Confederate prison camps. He wrote his first diary entry on June 1, 1863, and the last one on April 1, 1865. He did not miss a day.
"It's turned out to be a treasure," says Wesley W. Wilson, coordinator of archives and special collections. One of the conditions of the gift was that DePauw would transcribe the diary. Wilson has been working closely with John T. Schlotterbeck, A.W. Crandall Professor of History, and Midori Kawaue '17 to do that.
The arduous task of transcribing each word began with Wilson scanning the pages and posting them to Flickr, a free Web hosting service that supports crowdsourcing. Civil War buff Tony Klingensmith of Ogden, Utah, found it on the Internet, transcribed the entire document and gave it to Archives without any stipulation. However, in return for his work, Wilson asked Klingensmith to collaborate on the entire project.
It was the task of intern Kawuae to edit the transcriptions that Klingensmith provided. "He [Klingensmith] was great with names," Wilson says. "He knew Civil War officers, including spellings and rank, and Weaver wrote names in almost every entry. It would have taken us a long time to research that."
Schlotterbeck, Wilson and Kawaue have checked the transcriptions, added scholarly annotations and drafted an introductory essay for the diary so that it can be published. "We're doing some outside research about Riley and his family -- filling out the framework we had -- and now we know a lot more. That's unusual," Wilson says.
"There are a lot of things that make the diary attractive – the Cavalry unit, an educated officer, a long narrative that's complete, prison life and connections with DePauw's history," Wilson says.
Weaver was from Pennsylvania. He attended Allegheny College and joined the Union army. Following the war, he attended Garrett Biblical Institute in Evanston, Ill., where he would have met the president of the institute, Matthew Simpson, who had been DePauw's first president, and his daughter, Anna.
Weaver and Anna married, left for Europe where he took diplomatic posts, including chargé d'affaires, and traveled to Vienna and Belgium. "Upon their return to the U.S., James was offered a job as head of the Department of Modern Languages and Literature at DePauw, and I'm sure Anna welcomed the opportunity to return to her childhood home of Greencastle," Wilson says. Prior to his diplomatic career, Weaver had teaching experience at West Virginia University where he founded and ran the military cadet unit.
During Weaver's 30-year tenure at DePauw, he taught German, French, history, political science, economics and sociology. "He published his syllabi, which we have," Wilson says. "That's really unusual. They are in-depth, and John [Schlotterbeck] says anyone could pick them up and teach from them now."
Weaver retired in 1910 and died in 1920.
This story originally appeared in DePauw magazine (spring 2016). Written by Sarah McAdams.
Back