Wisconsin Supreme Court Justice David Prosser '65 Announces Retirement
May 2, 2016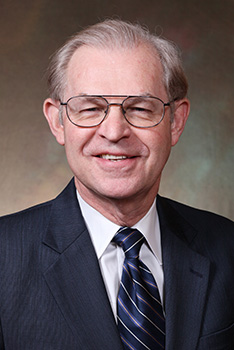 Wisconsin Supreme Court Justice David T. Prosser, a 1965 graduate of DePauw University, has announced he will be retiring effective July 31. Prosser has served on the court for 18 years, and will leave the bench with five years remaining on his term.
"It has been a tremendous honor to serve the people of Wisconsin in various capacities for more than 40 years," Prosser wrote in a letter to Gov. Scott Walker. "Public service was the career I chose at an early age. That goal has been fulfilled."
Gov. Tommy Thompson appointed Justice Prosser to the Wisconsin Supreme Court in 1998. Prosser went on to win election to the court in 2001, and reelection in 2011. Before his time on Wisconsin's high court, Prosser was a representative in the State Assembly for 18 years, serving nine terms from 1978 to 1996, including two years as assembly speaker and six years as minority leader. He then served two terms on the Wisconsin Tax Appeals Commission.
Prosser started his career as an attorney-advisor for the U.S. Department of Justice, then joined U.S. Congressman Harold Froehlich, of Wisconsin, as an administrative assistant for two years before returning to Wisconsin. He also served as a district attorney in Outagamie County before his election to the Wisconsin Assembly.
A political science major and Rector Scholar at DePauw, Prosser went on to earn a law degree from the University of Wisconsin.
"Justice David T. Prosser is an exceptionally bright and thoughtful jurist whose presence on the Court will be greatly missed," says Wisconsin Chief Justice Patience Roggensack. "David has brought unique perspectives to Court discussions, thereby increasing the Court's ability to understand difficult problems presented to us for resolution."
Read more here.
Back