$20 Million Gift from Don ('61) & Barbara Daseke Will Support The DePauw Trust and Other Initiatives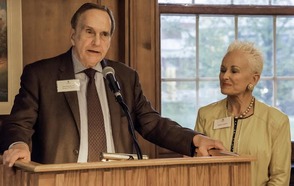 May 13, 2016
President Brian W. Casey announced today that DePauw University has received a $20 million gift from Don '61 and Barbara Daseke for The DePauw Trust and other vital initiatives at the liberal arts college. The gift was announced as a surprise addition to the current Campaign for DePauw during a dinner honoring the president last night.
Casey will assume the presidency at Colgate University on July 1 and Mark McCoy will lead DePauw as its twentieth president.
With this gift, The Campaign for DePauw has raised more than $286 million toward the stated goal of $300 million and continues to impact the campus in significant and meaningful ways. Of the stated priorities, gifts and commitments to The DePauw Trust -- DePauw's endowment for need-based support -- have now eclipsed $70 million.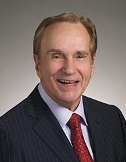 Don Daseke, a DePauw University trustee since 1985, earned his degree in economics and was a Rector Scholar at DePauw. He received his M.B.A. from the University of Chicago, Graduate School of Business, and is also a graduate of Harvard's President Program in Leadership. He is the chairman, president and CEO of Daseke Inc., one of the largest open deck/specialty trucking companies in North America. Daseke received the Old Gold Goblet, DePauw's highest honor bestowed upon an alumnus, in 2010, and received the University's McDermond Medal for Business and Entrepreneurship in 2015.
"This is a remarkable and significant gift," said President Casey. "As longtime and loyal supporters of the University, this contribution continues the impact Don and Barbara have had on DePauw. It has been an honor to work with and know them over the course of my time at DePauw and I am eternally grateful for their support."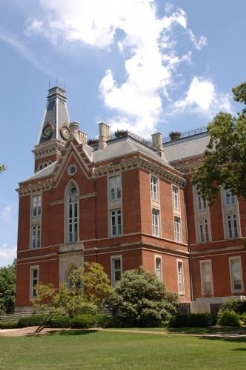 The Dasekes are longtime residents of Addison, Texas, and are involved in many other philanthropic endeavors focused on the arts and education. Barbara Daseke is the owner of a successful interior design firm and has adopted DePauw as one of her primary philanthropic passions, too.
"DePauw professors are committed to teaching and being mentors to our students," noted Don Daseke. "I stayed in contact with professors here long after I left DePauw. DePauw believed in me and invested in me by giving me the Rector Scholarship and we are thrilled that our gift will support the DePauw Trust for future scholarships and other strategic initiatives here at DePauw."
"The Dasekes, two of the kindest and most extraordinary people I know, have established an equally extraordinary legacy at DePauw and believe strongly in this type of education," stated president-elect Mark McCoy. "Their dedication to our students will have perpetual influence we can scarcely imagine. It is incredibly humbling -- and exciting -- to work with alumni and friends who shape the future in such profound ways," said McCoy.
Back