DePauw's Lost Lincoln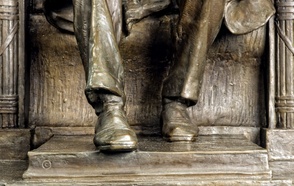 August 10, 2016
The Lincoln Memorial in Washington, D.C., is one of the most recognizable monuments in the United States. Dedicated to preserving the memory of President Abraham Lincoln, it is a solemn place that has borne witness to some of the most pivotal moments in U.S. history. From the Civil Rights Movement to President Obama's inauguration, this towering neoclassical building and the gleaming white marble statue it enshrines is now, more than ever, relevant to our national discourse on American values.
DePauw shares a fascinating number of connections to President Lincoln, one of which carries art historical significance. Nestled among thousands of paintings, prints and sculptures in the Peeler Art Center's teaching collection sits a bronze maquette for the finished marble statue inside the Lincoln Memorial. Sculpted by famed American artist Daniel Chester French (1850-1931), DePauw's statue – once deemed "missing" by the museum community for decades – is one of only nine copies in existence.
Other museums in possession of identical maquettes include the Art Institute of Chicago, Harvard Art Museums and Massachusetts Historical Society. Shortly after DePauw's website carried an announcement of a public lecture on campus last fall about the statue's history and art historical significance, Lincoln researcher Donald Partington serendipitously found the Internet reference. He was thrilled to have finally located the "missing" maquette, and he will include DePauw's statue in a forthcoming publication.
In need of professional conservation treatment for some time now, DePauw's 100-year-old sculpture patiently awaited its turn for repair. Finally, in fall 2015, gallery staff carefully prepared the statue for its trip to the Chicago Conservation Center. There, the statue underwent five months of analysis and repair by object conservators to reduce oxidation and staining before applying a new protective layer of wax.
G. Bromley Oxnam, DePauw's 16th president, purchased the Lincoln maquette in 1931 at the Grand Central Art Galleries in New York City, and he presented the statue to the University as a gift for students and faculty. Oxnam was likely attracted to the statue for a number of reasons. First, Lincoln's very image embodied the eternal struggle for human equality – a trait deeply important to a socially progressive Methodist minister like Oxnam. What better way to morally educate current and future generations of students than through the very likeness of Lincoln himself? A likeness that, in particular, bore a direct connection to one of the nation's most prominent public monuments devoted to our most cherished collective values.
Second, Oxnam's presentation of the Lincoln statue coincided with a call that same year to abolish the Reserve Officers' Training Corps program at DePauw, a change swiftly implemented. As the University Archives note, Oxnam was "an ardent [advocate] of world peace and social reform but also proved to be an activist administrator bent on remolding the University in accordance with his own views." President Lincoln, so it would seem, fit neatly within Oxnam's overarching agenda of 1930s progressivism.
Years after Oxnam's 1936 departure from DePauw, the Lincoln statue had already earned a famous reputation on campus. An article in The DePauw dated Feb. 16, 1944, and titled "Pitching Pennies … Coppers at Foot of Lincoln Mean Exams Are Hard," references the once commonplace student tradition of leaving pennies at the base of the statue for good luck. Ironically, the custom was implemented by World War II cadets, a group with which Oxnam would likely have been at odds during his tenure.
The bronze statue remained on display in what was affectionately referred to as "The Lincoln Room" in Roy O. West Library until the building was renovated in 1986. Now, after its most recent conservation treatment, this important artwork of national significance will soon be back on public display. The statue will have a new plinth, constructed of lumber from trees removed to make way for construction of Hoover Dining Hall, further strengthening the historical ties between DePauw and President Lincoln.
Written by Craig R. Hadley, director and curator for exhibitions and University collections, for DePauw Magazine, Summer 2016
Back