Purdue Football Team Practices at DePauw's Blackstock Stadium
August 11, 2016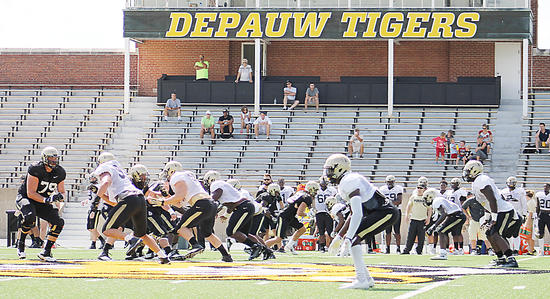 "Four tour buses and a U-Haul. It's not the punchline to an unspoken joke, but what it apparently takes for a Division I football team to move its practice two counties and nearly 60 miles to the south," begins a Banner-Graphic story. The newspaper's Jared Jernagan reports, "The Purdue University football team spent Thursday in Greencastle utilizing the DePauw University facilities for two-a-day practices."
The article notes, "The road trips have become a tradition during coach Darrell Hazell's four-year tenure with the Boilermakers ... The morning session was a bit of a reprieve from the recent heat for the players, as cloudy skies over the DePauw practice field kept temperatures at bay. No such luck in the afternoon session at Blackstock Stadium, though. Purdue took to the turf of Nick Mourouzis Field with the sun on full display and the mercury climbing to 90 degrees."
Jernagan adds, "As for the DePauw Tiger football team, first-year players report to campus on Sunday, with the first full-team practice set for Tuesday afternoon. Having improved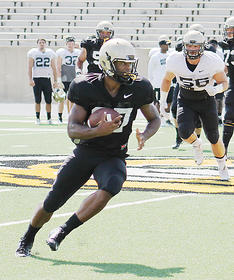 its record in each of three seasons since coach Bill Lynch returned to the program, DePauw has a tall task ahead of it in matching or topping the 8-2 (7-2 NCAC) record and second-place North Coast Athletic Conference finish of 2015. In a recent poll of NCAC coaches, the Tigers were picked to finish third behind perennial powers Wabash and Wittenberg. DePauw was the only school besides Wabash to pick up a first-place vote."
Access the complete piece at the Greencastle paper's website. Purdue's day at DePauw is also noted in the Lafayette Journal & Courier. The Anderson Herald Bulletin reports, "While football was the main focus, the trip also is part of the process of molding a team. Impromptu games of Spades broke out between practices, and afterward the players took a dip in DePauw's pool."
The Tigers host an August 27 scrimmage with Franklin College, then open the regular season hosting Mount St. Joseph on September 10. Get the latest information at the DePauw football program's official online page.
Source: Greencastle Banner-Graphic
Back