Cellist Who Inspired Worldwide Movement Performs Bach Marathon Wednesday at Music on the Square
August 25, 2016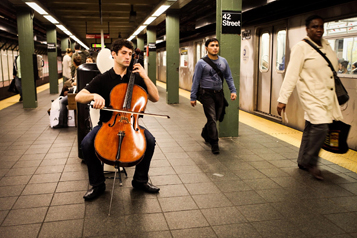 Cellist Dale Henderson, the founder of the international "Bach In the Subways" movement, in which musicians around the world celebrate the enlivening and humanizing power of classical music, is coming to Greencastle next week for a four-day residency, co-sponsored by the DePauw University School of Music, the Greencastle Summer Music Festival, and the Inn at DePauw.
A number of DePauw University musicians, including cello professor Eric Edberg, are joining him in free "popup" performances in various locations on the DePauw campus and throughout Putnam County.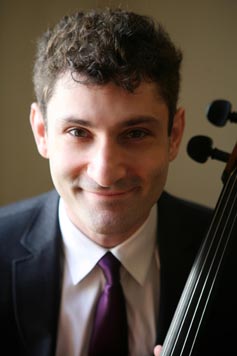 Henderson's time in Greencastle culminates in a 7:30 p.m. Wednesday performance of the complete Bach Suites for Solo Cello as part of the School of Music's Faculty Select concert series at Music on the Square (21 N. Indiana). General admission is $10, with students, youth, and senior citizens admitted free.
"Dale is one of my most admired colleagues," says Edberg. "I met him seemingly by chance in January 2011, on a subway platform in New York City. This was shortly after he had started his mission to play Bach in the subways, without accepting money, as a way of bringing classical music out of the concert hall to where people are. I'd seen a CNN story about him and was hoping to meet him. And then one day, there he was! I was staying in New York on a sabbatical, and he invited me and others to join him on Bach's birthday for what became the first annual 'Bach in the Subways Day.' What started out with just a handful of us soon went viral, and is now a worldwide phenomenon.
"He has been a tremendous inspiration to me and countless others. I'm absolutely thrilled to have him here leading members of the DePauw musical community in taking classical music everywhere we can. And Wednesday's concert is a once-in-a-lifetime opportunity to experience the power of Johann Sebastian Bach's Six Suites for Solo Cello. It will last about three hours, which I expect will fly by. There is very comfortable seating in the beautiful, intimate Music on the Square space, and we'll have refreshments on hand."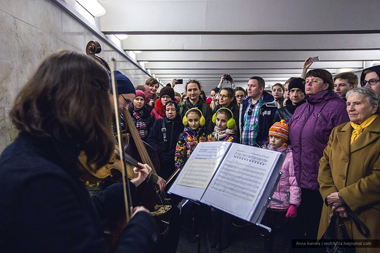 Edberg says that Henderson is an extraordinary musician. "He was a child prodigy and has an amazing command of the instrument. I love his playing." Within one week, August 31-September 4, the New Yorker will cross the country playing every cello work by J.S. Bach, traveling from DePauw University to Bloedel Reserve in Washington state to perform the six Bach Cello Suites in Greencastle and the three Sonatas for Viola da Gamba and Harpsichord in Washington.
"There are only a few cellists in the world who can play all six suites in one program," Edberg explains, "and then fly on to Seattle and perform the three Gamba sonatas? It's the cello equivalent of running two marathons in one week! Absolutely astounding."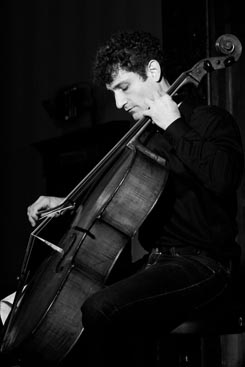 Henderson, a graduate of the New England Conservatory of Music in Boston, took his cello to the subways of New York in 2010 in an effort to champion classical music and deliver it to a wider audience. Five years on, those first impromptu "Bach in the Subways" concerts sparked a global Bach movement on five continents, inspiring pop-up concerts in over 140 cities in 40 countries. Now the cellist undertakes a new challenge, showcasing the entire Bach cello repertoire in his own performances across the country.
"So much of classical music and Bach especially has this magic power to transcend all the usual human divisions," says Henderson. "It brings people together by moving the souls of everyone who's there hearing it. The spirit behind 'Bach in the Subways' was always to get as many people as possible to hear this incredible music. With the complete Bach cello cycle, I'm approaching the same goal from a new perspective."
The Cello Suites are significant to Henderson because they were nearly lost. Not until world-renown cellist Pablo Casals found the music did the Suites live again through performances and recordings. Taking his cue from Casals, Henderson has made it his mission to reimagine Bach and classical music in general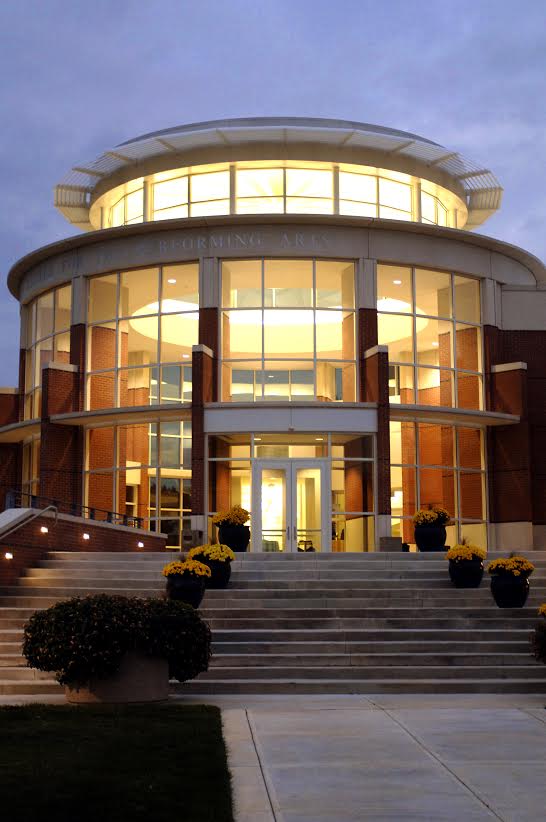 through his own performances, and by inviting musicians from around the world to bring their music directly to the public with "Bach in the Subways."
Described by Yo-Yo Ma as "a very gifted musician, a natural cellist," Dale Henderson began studying cello when he was five. He enjoyed regular performances as a chamber musician, soloist, and orchestra cellist, and made his professional solo debut at thirteen with the Buffalo Philharmonic and conductor Eiji Oue. In 1993, at the invitation of Sir Yehudi Menuhin, Henderson attended the International Menuhin Music Academy in Gstaad, Switzerland, and from 1996-2000 Dale earned his Bachelors of Music from the New England Conservatory of Music in Boston. He founded Bach in the Subways in 2010 and currently lives in New York City.
Back