Prof. Christina Holmes Publishes Ecological Borderlands
October 24, 2016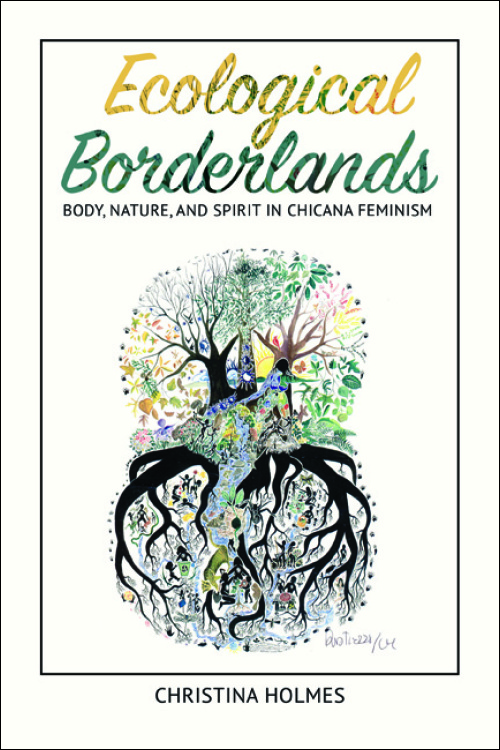 Christina Holmes, assistant professor of women's, gender, and sexuality studies at DePauw University, is the author of Ecological Borderlands: Body, Nature, and Spirit in Chicana Feminism. The book has just been published by University of Illinois Press.
"Environmental practices among Mexican American woman have spurred a reconsideration of ecofeminism among Chicana feminists," states a synopsis. "Christina Holmes examines ecological themes across the arts, Chicana activism, and direct action groups to reveal how Chicanas can craft alternative models for ecofeminist processes. Holmes revisits key debates to analyze issues surrounding embodiment, women's connections to nature, and spirituality's role in ecofeminist philosophy and practice. By doing so, she challenges Chicanas to escape the narrow frameworks of the past in favor of an inclusive model of environmental feminism that alleviates Western biases ... A bold excursion into a marginalized field, Ecological Borderlands demonstrates how Chicana feminists have actively and materially stretched themselves into coalitions with human, nature, and spirit others, and these acts underscore the role of agency in Chicana ecofeminist work."
The work was awarded the National Women's Studies Association/University of Illinois Press First Book Prize in 2013.
According to Noel Sturgeon, author of Environmentalism in Popular Culture: Gender, Race, Sexuality, and the Politics of the Natural, "This brilliant, accessible, and complex intervention should be read not just by those interested in environmentalism and feminism, but by all transnational, decolonizing, and materialist thinkers and doers, whether scholars, students, or activists."
"Holmes offers us new ways to consider what she calls performative ecological intersubjectivities that emerge from Chicana and Mexican American women's creative thinking,
art-making, and spirituality, as well as from their commitments to social and ecological justice," adds Irene Lara, co-editor of Fleshing the Spirit: Spirituality and Activism in Chicana, Latina, and Indigenous Women's Lives.
Order the book at the publisher's website.
Christy Holmes received her Ph.D. from the department of women's, gender and sexuality studies at Ohio State University. She joined the DePauw faculty in 2011.
Back