Readiness & Loyalty Key Traits of US VPs, Says Dan Quayle '69
November 21, 2016
"Every vice president has a different role, a different responsibility," says the 44th Vice President of the United States, Dan Quayle. "It all depends on what the president wants."
Quayle, a 1969 graduate of DePauw University, talks with the Indianapolis Star about the role Mike Pence is about to take on.
A member of Congress and U.S. Senator before being picked as the running mate of George H.W. Bush, Quayle notes, "I'd been in Washington for years. I thought I knew what it would be like. But you don't know what it's like until you experience it."
A political science major at DePauw, Quayle captained the Tiger men's golf team.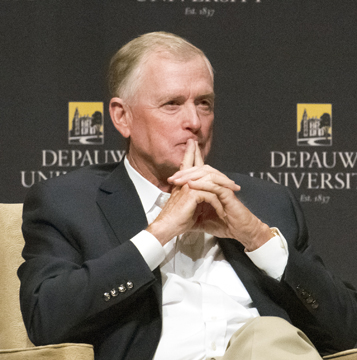 "There are two requirements of the vice president," he says. "First, you have to be prepared if something happens. The second is you have to be loyal. You have to remember it's the president's agenda and not yours."
Craig Fehrman writes, "As vice president, Quayle enjoyed some big moments. He traveled to 47 countries in four years. He remembers staying up all night in the Situation Room -- with President Bush en route to Malta, it was Quayle who monitored an attempted coup in the Philippines and pressed Colin Powell for the latest intelligence. Quayle also tried to influence Bush. 'You're one of his closest advisers,' he said. 'You help formulate the policy. You help implement the policy. You're right there.' Still, Quayle stresses his secondary role. While he didn't always agree with Bush, he remains reluctant to discuss this even now, almost three decades later. 'Did we have disagreements?' Quayle said. 'Yeah, but not huge ones. He's the boss.'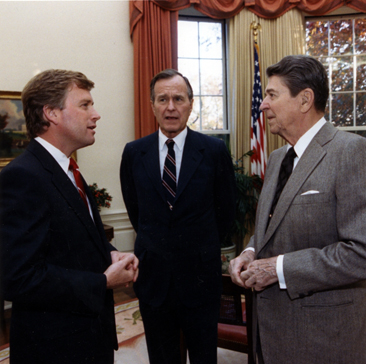 In their single term, the two built a friendship that's lasted. 'I just spoke with him yesterday,' Quayle said."
Read the complete column at IndyStar.com.
Dan Quayle earned a J.D. from the Indiana University Robert H. McKinney School of Law. He was elected to two terms each in the U.S. House of Representatives and U.S. Senate before becoming vice president.
The former vice president has made many return visits to DePauw. He's been awarded the University's McNaughton Medal for Public Service and in March 2015 was a guest of the Timothy and Sharon Ubben Lecture Series. That talk is summarized in this article; video is embedded below.
Source: Indianapolis Star
Back