History, Practiced and Learned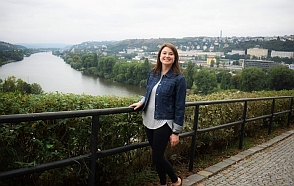 December 6, 2016
This semester, Anna M. Savery '18 has been far from the DePauw classrooms where she spent the past two years pursuing a degree in history. Studying through a Council on International Educational Exchange (CIEE) program based in Prague, Savery has temporarily relocated from one of Indiana's oldest liberal arts colleges to one of Europe's oldest universities, Charles University, which hosts the bulk of the exchange program.
Before leaving for Prague this fall, Savery practiced her skills as a historian during a summer internship with Indiana Legal Services, a nonprofit law firm that provides civil legal services to low-income residents throughout the state. There, she and a third-year law student from the Indiana University McKinney School of Law researched the organization's history and composed a written narrative to commemorate the its 50th-anniversary.
DePauw: First off, can you tell us a little about what it's like to be studying in Prague?
Anna Savery '18: "My studies here have focused on the culture and history of the Czech Republic and central Europe. In my Modern Czech Art class, for example, I have studied the evolution of Czech identity and its expression. In other classes — and in daily experiences — I have learned about the immediate and lasting impact of a totalitarian regime on people.
"Being a foreigner in Prague, as in any location, presents some challenges (primarily through the Czech language, which is very difficult), but the city never ceases to amaze me. Prague did not experience the bombings of World War II, so even the oldest parts of the city are still intact. There are so many sites of historical significance, and it is very powerful to think that I have walked through centuries-old streets and public squares that have seen major events like the 1968 Prague Spring or 1989 Velvet Revolution."
Jumping back a few months (and an ocean), what can you tell us about Indiana Legal Services?
"Indiana Legal Services is one of many legal organizations across the country that provide civil legal aid to the poor. In the United States, you are guaranteed the right to an attorney only in criminal cases, so if a landlord illegally evicts a tenant, that tenant would not be get a public defender if he or she could not afford a lawyer. The work that legal services programs do is incredibly important to extend equal protection under the law.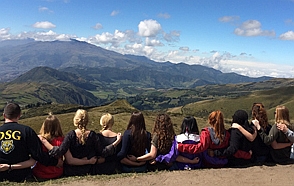 One of USA's Top Study-Abroad Colleges
DePauw University ranks fourth among the nation's four-year baccalaureate colleges for the percentage of students studying abroad.
Read More
"I think one of the most interesting aspects about ILS in particular is its endurance, largely due to the dedication of its employees. Many of its employees have been with ILS since the 1970s; one paralegal has even worked there since 1966, a few months after the organization's founding. With funding changes under different political administrations, ILS has both expanded greatly and experienced cutbacks, but the passion of the employees has remained a constant."
How did you go about creating a written history for the organization? Were any of the courses you've taken particularly helpful?
"We had access to old files such as memos, board meeting minutes and newspaper archives. We also conducted oral history interviews with key figures in ILS's development. Because I have done plenty of research papers for my history classes at DePauw, I felt equipped to approach this project. However, one course above all, History Today, prepared me for the project. History Today is a class on historiography in which students examine a historian's relationship to the past. Some key themes in the course are how historians frame and identify their research questions and the strategies they use when approaching sources. There were plenty of instances this summer when I caught myself thinking about our discussions in History Today while considering if information in a particular document was relevant. I firmly believe that I would not have been able to take on a project of this scope without the preparation of my DePauw history classes."
The difference in historical scope of ILS and Prague is fairly large — decades versus centuries — but but in what ways are the two experiences similar?
"Both my research at Indiana Legal Services and studies in Prague have emphasized the roles and actions of everyday individuals. Though the lawyers, paralegals, and other support staff at ILS are not the people who children study in school, their daily dedication to fight for equal access to justice has been immensely important to the people of Indiana. Likewise, my studies of Czechoslovakia and the Czech Republic have highlighted the personal impact on millions of a repressive communist regime on a nation. One often forgets that there are real lives affected by major historical events, and I have come to see that one of historians' jobs is to make sure that this individual, human character is not lost. I look forward to applying these new perspectives to my studies at DePauw and beyond."
Now that you've got some experience under your belt, what are your plans for the future?
"After DePauw, I want to pursue a Ph. D. in history to be a professor of American history. My internship gave me a taste of independent research typical of a professional historian. My supervisor for the project told me at the beginning of the internship that he did not know what the final project would look like, so the other intern and I basically determined the course of the entire project. This summer really affirmed what I want to do, and I met some extremely dedicated and passionate people in the process. I am so lucky that DePauw afforded me this opportunity, and I cannot thank Professor [of History David N.] Gellman enough for helping me secure this internship."
---
Read more about DePauw's study abroad and internship opportunities at the Hubbard Center for Student Engagement.
Back