Grammy Nomination Connects to the Work of Noble Sissle '17
December 7, 2016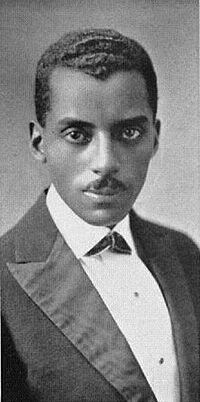 "An Indianapolis musician from the early 20th century factors in the new crop of Grammy nominees thanks to the research of historians Ken Bloom and Richard Carlin," writes David Lindquist in the Indianapolis Star. "Noble Sissle, an Indianapolis native who attended DePauw University and Butler University, is spotlighted in Sissle and Blake Sing Shuffle Along -- an archival recording of tunes related to the 1921 Broadway smash featuring lyrics by Sissle and music by Eubie Blake."
The story, which highlights Grammy Award nominees with Indiana ties, adds, "Bloom and Carlin are Grammy nominees for liner notes written for Sissle and Blake Sing Shuffle Along."
The award winners will be announced February 12.
Noble Sissle was a member of DePauw's Class of 1917. A jazz composer, lyricist, bandleader, singer and playwright, he is best known for the 1921 Broadway musical Shuffle Along, which included the hit song I'm Just Wild About Harry. Sissle died December 17, 1975 in Tampa, Florida at age 86.
Read more at IndyStar.com.
Source: Indianapolis Star
Back