Rock Shop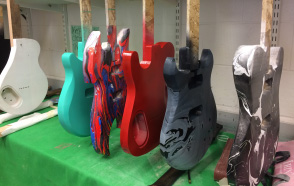 January 20, 2017
This Winter Term course is part of the National Science Foundation's STEM Guitar Project. In building an electric guitar from the ground up, students are learning and applying science, technology, engineering and math. They're also gaining experience in woodworking, machining and soldering.
The electric guitar continues to be a key element of rock and jazz music. Guitar designs range from very simple single pickup models to more complex, double-neck varieties employing several pickups and variety of electronics. In this course, students will have the opportunity to design and fabricate an electric guitar beginning with wood that will be cut and finished to form the body, an unfinished neck, loose hardware and electronic components.
Last summer, Chemistry and Biochemistry Professors Dan Gurnon and Rich Martoglio attended a training workshop funded by the NSF in order to teach the course.
They have a diverse group of students – some with guitar playing experience and others with none. Hannah Swarm '20 says, "I chose the class because it's something totally different for me. I've never played an instrument, done any woodworking or electrical work. It's been a lot of fun."
Back