A Reassessment of Vice President Dan Quayle '69
January 17, 2017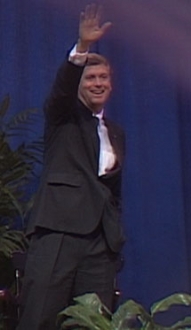 "As America prepares to install Mike Pence as the sixth vice president from Indiana, it's well past time to take another, and more positive, look at the service in that office of the fifth person from the Hoosier state, Dan Quayle,' writes Joel K. Goldstein, Vincent C. Immel Professor of Law at Saint Louis University School of Law, in the Indianapolis Star. "The tendency to denigrate Quayle and to exclude him in describing the transformation of the vice presidency into a consequential office during the last 40 years is unfortunate and unfair. Quayle made important contributions to the administration of George H.W. Bush and to the development of the nation's second office."
Goldstein, a leading authority on vice presidents, is the author of The White House Vice Presidency: The Path to Significance, Mondale to Biden. He writes that "the Bush campaign, masterful in other respects, botched Quayle's roll out and Quayle paid a price ... Quayle was recognized as an astute political and legislative adviser. He was a prominent voice urging Bush to seek authorization from Congress before using military force to reverse Iraq's invasion of Kuwait and prevailed over some senior Bush advisers who offered opposing counsel.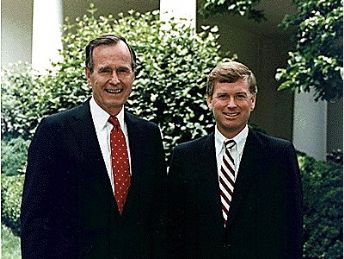 He had friends in both houses of Congress and on both sides of the aisle and those relationships and the time he spent on Capitol Hill gave him a good sense of congressional opinion. Quayle also was part of the larger Gang of 8, the senior national security advisers who met with Bush on global matters."
The professor also points to how Quayle, who had served in both the House and Senate, ably worked with Congress. He states that the 1969 DePauw University graduate "contributed to the development of the vice presidency as an integral part of the presidency" and "was an important adviser and operator during the Bush administration."
Read the column -- "A reassessment: Dan Quayle as vice president" -- at IndyStar.com.
A political science major at DePauw, Quayle captained the Tiger men's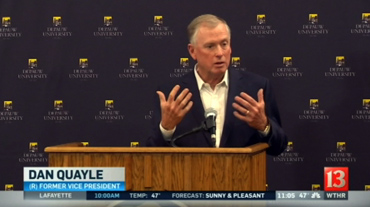 golf team. He went on to earn a J.D. from the Indiana University Robert H. McKinney School of Law. He was elected to two terms each in the U.S. House of Representatives and U.S. Senate before becoming vice president.
The former vice president has made many return visits to DePauw. He's been awarded the University's McNaughton Medal for Public Service and in March 2015 was a guest of the Timothy and Sharon Ubben Lecture Series. That talk is summarized in this article; video is embedded below.
Source: Indianapolis Star
Back