Greencastle's York Chevrolet Buick GMC Provides DePauw With New Safe Ride Vehicle
March 9, 2017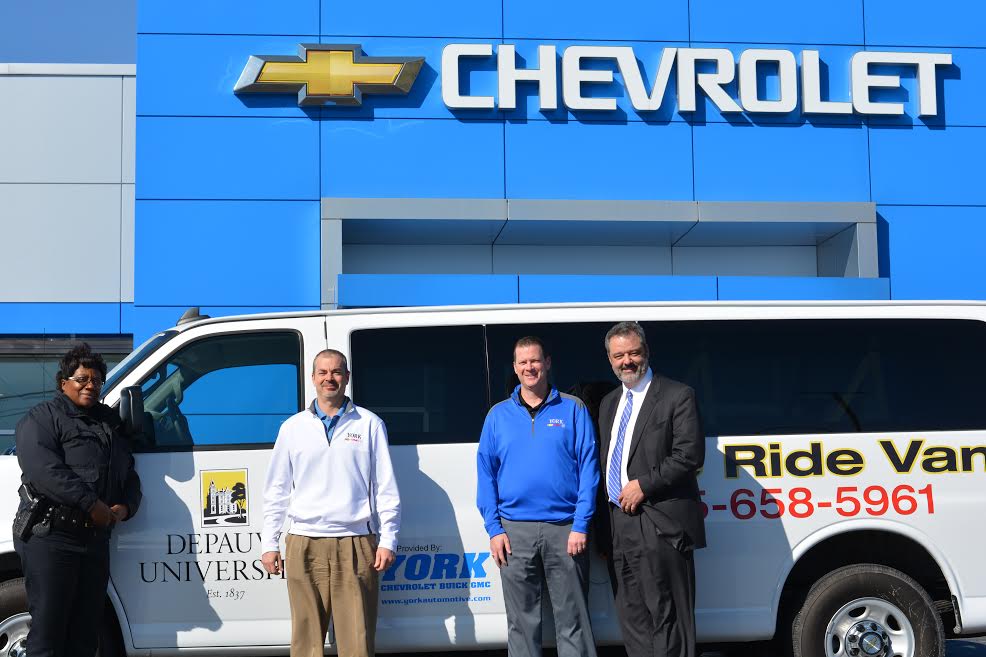 The generosity of Greencastle's York Chevrolet Buick GMC will provide DePauw University with a new Safe Ride vehicle. York's donation of a 2016 Chevrolet Express 12-passenger van will allow DePauw to retire the current Safe Ride van, which has been in service for a decade. (photo l-r: Charlene Shrewsbury, assistant director of DePauw Public Safety and coordinator of the Safe Ride program; Rob York, Nick York, and DePauw President Mark McCoy).
Launched in the 1990s, the Safe Ride program was designed as a safe means of transportation on campus after dark. It provides DePauw students with rides home from parties or in situations when they feel they need an escort. The program runs 9 p.m. - 2 a.m. on Wednesday and Thursdays and 9 p.m. - 3 a.m. on Friday and Saturday. When the Safe Ride van's age prevented it from operating regularly, President McCoy heard concerns voiced by students.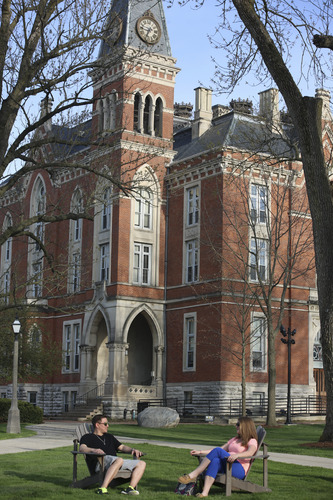 "I immediately thought of our friends in the community and reached out to Rob York," says Dr. McCoy. "He and his brother, Nick, were immediately receptive to the idea. I could see that they were concerned about student safety and saw this as a way to help."
"York Chevrolet Buick GMC enjoys a longstanding relationship with DePauw and we're pleased to help," adds Nick York, owner of the dealership which was recently honored as "Business of the Year" by the Greencastle Chamber of Commerce.
Rob York notes, "DePauw and Greencastle benefit one another, and it's important for businesses to step in and help an institution that does so much for the local economy. It's one of the things that makes our community so special."
Angela Nally, director of public safety at DePauw, states, "Our current vehicle has delivered more than its share of safe rides and has logged almost 100,000 miles. This important and timely gift is very much appreciated and we thank York for reaching out to benefit our students and campus."
"The strong town-gown partnership between Greencastle and DePauw began 180 years ago," President McCoy points out. Family businesses like the one operated by Rob and Nick are the heart of our community. We all benefit when we work together like this."
Learn more about the Safe Ride program here.
In March 2011, Greencastle and DePauw successfully partnered to win one of Indiana's inaugural Stellar Communities grants, which has led to major improvements in the center of the city. As Becky Skillman, Indiana's lieutenant governor when the award was made, stated, "We know that Greencastle now will become an even greater economic engine for the entire region. We cannot wait to see what Greencastle will do for Indiana."
A 2003 study conducted for the Indiana Conference of Higher Education found that DePauw University's impact on the Putnam County economy exceeded $124 million annually, and that the University's activities provided more than 950 local jobs. The report, by Dr. Kevin T. McNamara, a regional economist and faculty member in Purdue University's Department of Agricultural Economics, was based on figures from the 2000-01 academic year. McNamara noted that DePauw "impacts individuals, households and communities as it fulfills it education mission."
Back