The Body in Motion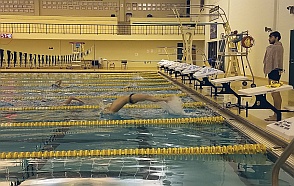 February 14, 2017
DePauw student researchers are working with kinesiology professors Pat Babington and Brian Wright using motion analysis software and underwater video cameras to study biomechanical parameters of movement. More specifically, they are testing a device that has been developed for backstroke competitors as they begin their race to determine how it influences performance.
DePauw's kinesiology lab is the only one in the state that has software and equipment to do this kind of work, and one of two labs in the country that is using the software and devices to film underwater. "This really is a unique research opportunity for students to have," Wright says.
The student-faculty research team is focusing on the implementation of the device with regard to the changes on kinematics of the swimmer's competitive backstroke start. Data on distance, depth and velocity is collected during the backstroke start maneuver via captured video using three cameras.

WRIGHT AND MCDONNELL DISCUSS THEIR RESEARCH BETWEEN TAKES.
The backstroke ledge is used at elite levels yet there is little known about what effect it has on the swimmer. The DePauw student-faculty researchers also want to determine how it effects a less experienced swimmer in regard to safety. They are focusing on head position to see if a swimmer goes any deeper when the device is used. Because all pools differ in how they're designed, any risk associated with using the device could vary from one facility to another.
They have collected data six times over the past year with a total of 60 volunteer athletes. The research process begins by calibrating the area above and below the surface of the water. "We use a calibration frame that marks known distances," Wright says. That allows them to use the software to establish a grid or an area within the pool. They look at 2D analysis, and from that they are able to gain information such as distances and speeds and particular angles and depths that the swimmer achieves when they start.
The software has many applications. It allows researchers to track different points on the body while someone is swimming. This information can then be used to examine sport performance as well as safety implications. "The software is a good tool that students can learn and use in an undergraduate research setting, and it can also work as an avenue of scholarship for me," Wright says.
James "Jimmy" J. McDonnell '17 has been working with Wright on the project since last summer. He's a member of the DePauw men's swim team as well as a computer science major and kinesiology minor. His work with the project has played a role in developing his future plans.
He says that the research experience has been really rewarding. "What I like the most about it is collaborating, problem solving and working closely with a professor," McDonnell says. "Instead of sitting down and reading a textbook, you talk to each other. Instead of trying to memorize information, you're critically thinking, problem solving, creating and doing which is so much better than, chapter one, intro to kinesiology."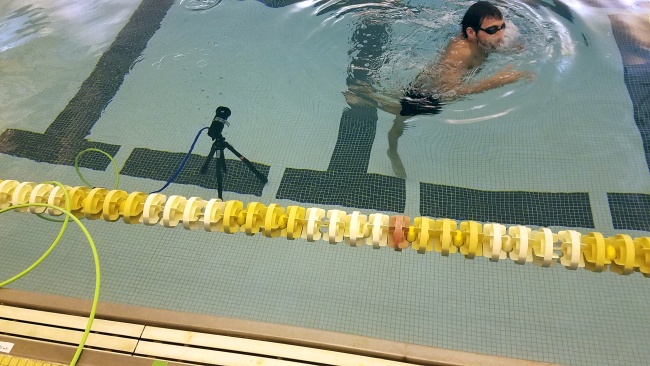 McDonnell says he was originally planning to pursue a career in computer science but the kinesiology research has inspired him to explore graduate school opportunities to study kinesiology. His interests include learning to apply kinesiology research to improve an elite-level athlete's performance.
"I never would have gotten to this point if it wasn't for the DePauw research program. It all began by asking Professor Wright, 'Are you doing any research this summer?' He replied, 'As a matter of fact, I am. Would you like to give it a shot?'"
Professor Wright is part of a research team with his colleagues at Indiana University working to provide information on the backstroke start to the National Federation of State High School Associations.
Back