Indiana State Museum Exhibit Honors Percy Julian '20, "One of the Nation's Most Accomplished Scientists"
February 24, 2017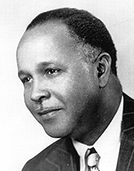 In an article headlined "13 Indy museum exhibits coming and going", the Indianapolis Star notes that "'Making a Mark in Science: Percy Julian' ends Feb. 28 at the Indiana State Museum. Discover one of the the nation's most accomplished scientists, who graduated from DePauw University."
Access the item here.
The founder of research laboratories in the United States, Mexico, and Guatemala, Percy Lavon Julian was a 1920 graduate of DePauw, a member of University's Board of Trustees, and was the first recipient of the University's McNaughton Medal for meritorious public service. He also received an honorary degree from his alma mater in 1947. He died on April 19, 1975 in Waukegan, Illinois.

[Download Video: "Percy Julian Receives McNaughton Medal" - 2914kb]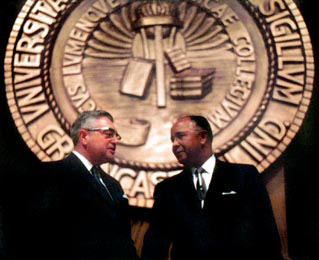 The University's Percy Lavon Julian Science and Mathematics Center -- where a bust of Dr. Julian greets visitors -- stands as a tribute to the great chemist. (at left: Dr. Julian with former DePauw President Russell Humbert)
Elected to the National Academy of Sciences in 1973, Percy Lavon Julian received19 honorary doctorates and in 1990 was inducted into the National Inventors Hall of Fame. In 1993, the U.S. Postal Service issued a stamp in Dr. Julian's honor.
Source: Indianapolis Star
Back