UES 2017 Draws Speakers, Students to Prindle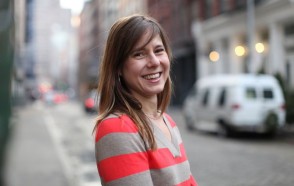 April 4, 2017
James Hamblin of The Atlantic and Anna Sale of WNYC's Death, Sex & Money are among the nationally recognized speakers joining students from around the country for the 10th Annual Undergraduate Ethics Symposium, April 6-8 at DePauw University's Prindle Institute for Ethics.
Sale is the host and managing editor of Death, Sex & Money, WNYC's interview show about the big questions and hard choices that are often left out of polite conversation. Recently named New York magazine's number one podcast of 2015, the show has also been featured by the New York Times, The Atlantic, Buzzfeed, The Guardian, Fast Company and Real Simple.
Sale will provide the opening keynote, "Rebuilding Trust by Asking Uncomfortable Questions," at 7:30 p.m on Thursday, April 6.
Hamblin, a former radiologist, hosts the video series "If Our Bodies Could Talk" for The Atlantic, where he is a writer and senior editor. His writing and videos on health have won him praise from numerous media outlets including Buzzfeed, TIME and Greatist. He was a Poynter Fellow in Journalism at Yale University. He completed three years of medical residency before joining The Atlantic to develop a health section.
Hamblin's talk, "The Ethics of Science Reporting," will be held at 7:30 p.m. on Friday, April 7.
Hamblin and Sale join keynotes by Jennifer E. Miller, assistant professor at New York University School of Medicine and founding president of Bioethics International, and Helen Phillips, an award-winning novelist and assistant professor at Brooklyn College. A full schedule of events and speakers can be found on UES 2017 schedule. All keynotes are free and open to the public.

The Undergraduate Ethics Symposium is held at DePauw University's Prindle Prindle Institute for Ethics, located in a 500-acre nature park near campus. Participating undergraduate students from around the country attend seminars with visiting scholars and artists and also hear presentations on the symposium's theme. Students who are accepted to the symposium will receive free lodging and meals. Need-based assistance is available for travel.
More details about the symposium are available on the UES 2017 website.
Back