Emily McWilliams is Schaenen Visiting Scholar for 2017-18
August 16, 2017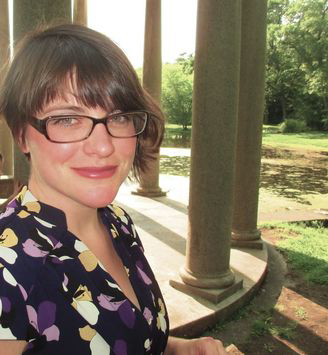 Emily McWilliams joins the DePauw University faculty as the Nancy Schaenen Visiting Scholar at the Janet Prindle Institute for Ethics for the 2017-18 academic year. She comes from the Massachusetts Institute of Technology, where she was a postdoctoral associate in the department of linguistics and philosophy.
Dr. McWilliams' areas of study include epistemology, feminist philosophy, and philosophy of mind. A synopsis of her dissertation, "Belief and Ameliorative Epistemology," notes, "Epistemologists disagree about which accounts of normative concepts like knowledge and justification are best. I argue that these debates deserve an ameliorative approach (following Haslanger, 2012), on which we start by asking what legitimate purposes we have for employing a framework of normative epistemic concepts to begin with. Given an answer to this, we can more easily determine which set of concepts is up to the task."
McWilliams earned her B.A. from Tulane University, where she was a triple major in philosophy, linguistics, and psychology and graduated summa cum laude. She received a Ph.D. in philosophy from Harvard University.
She has made numerous presentations, including at the Society for the Advancement of American Philosophy's annual meeting; at the Graduate Conference in Philosophy of Mind, Language, and Cognitive Science, University of Western Ontario, Canada; at the Understanding Value Conference, University of Sheffield, U.K.; and presented at Ways of Knowing: Feminist Philosophy of Science and Epistemology, Society for Women in Philosophy, Ireland.
Nancy Shelly Schaenen graduated from DePauw in 1951 and served as a member of the Board of Visitors from 1993-95 and as a member of the Board of Trustees from 1995-2003. She and her husband, Nelson Schaenen Jr., provided a generous endowment to fund this visiting scholar position.
Back