Mural at Percy Julian '20 Elementary School Will Honor the Groundbreaking Scientist
July 16, 2018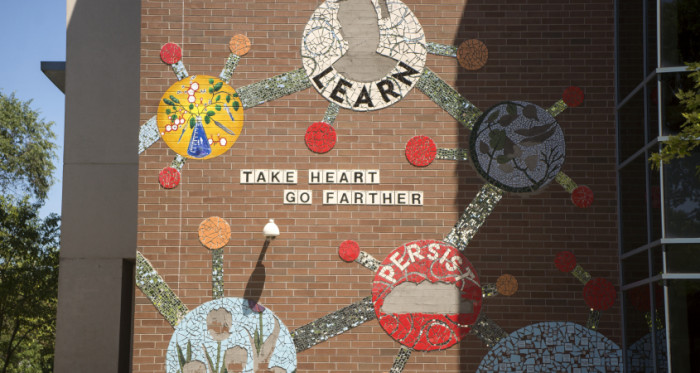 A mural is being installed at Percy Julian Middle School in Oak Park, Illinois, to honor the groundbreaking chemist, inventor and 1920 DePauw University graduate for whom the school is named. The work was created by participants in the Oak Park Education Foundation's BASE Camp summer program, and under the guidance of nationally prominent muralist Tracy Van Duinen, will be completely in place by the end of this month.
An article in the Wednesday Journal notes, "The mural, which rises to tree-like heights on the northwest corner of the school, takes the form of a molecular structure and incorporates features of Julian's research, such as his groundbreaking synthesis of the soybean molecule. Van Duinen said the scientific theme anchored the artwork, which also riffs on themes found throughout the chemist's personal life and work -- his persistence despite having his home attacked and his ability to employ other black scientists through his lab, among other things."
Michael Romain writes, "Julian, a pioneering African-American research chemist and businessman, was also a local civil rights leader. When he moved here in around 1950, his family was one of the first black families to set down roots in Oak Park. Before moving in, though, the Julians' home was famously fire-bombed twice. The chemist, armed with a shotgun, and his son kept watch over their home, sometimes from a nearby tree."
Read more here.
The founder of research laboratories in the United States, Mexico, and Guatemala, Percy Lavon Julian was a member of DePauw's Board of Trustees, and was the first recipient of the University's McNaughton Medal for meritorious public service. He also received an honorary degree from his alma mater in 1947. He died on April 19, 1975 in Waukegan,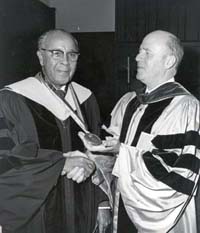 Illinois.
The University's Percy Lavon Julian Science and Mathematics Center -- where a bust of Dr. Julian greets visitors -- stands as a tribute to the great chemist. (at right: Dr. Julian with former DePauw President William Kerstetter)
Elected to the National Academy of Sciences in 1973, Percy Julian received19 honorary doctorates and in 1990 was inducted into the National Inventors Hall of Fame. In 1993, the U.S. Postal Service issued a stamp in Dr. Julian's honor.
Back